Heute gab es eine exklusievere Probe mit 4 Bordeaux (Liste aller Weinproben siehe hier).
Die Weine
1995 Chateau Leoville Barton
1998 Chateau Latour
2000 Chateau Pontet Canet
2007 Chateau Angelus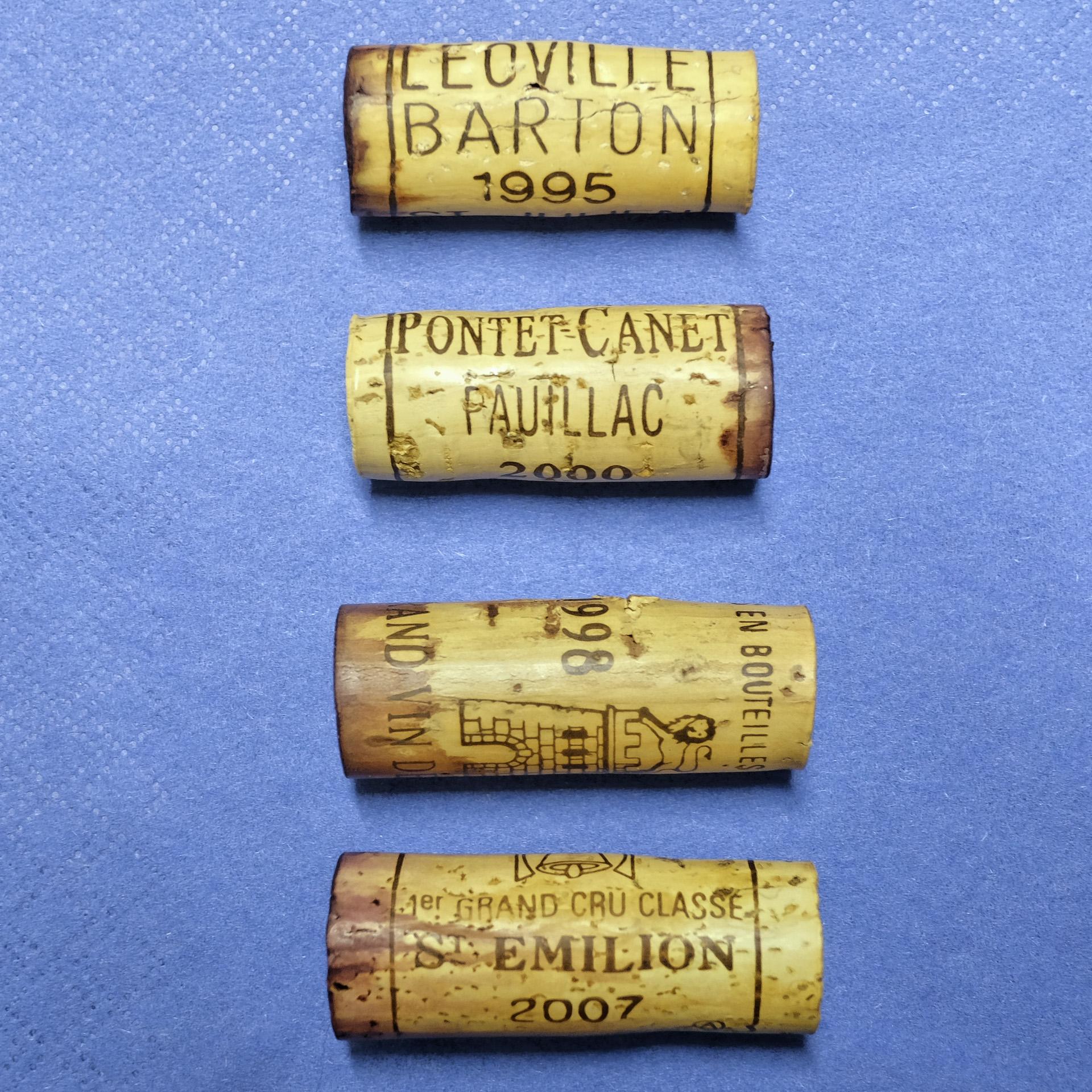 Alle Korken waren in einem Top Zustand, Chateau Latour und Chateau Angelus hatten die längsten.
1995 Chateau Leoville Barton
The vineyard nestles in the heart of the St Julien terroir among the most beautiful slopes of Garonne gravel, facing the Gironde river. The clayey gravel subsoil allows excellent growing conditions whatever weather the vintage brings. The plowing is traditional, without weeding or herbicide. The grape varieties are Cabernet Sauvignon (74%), Merlot (23%) and Cabernet Franc (3%).
The harvesting is done entirely by hand. After the de-stemming, the berries are carefully sorted, crushed and poured in wooden vats thermo-regulated, according to their plots. The alcoholic fermentation lasts from 7 to 10 days and the extraction is always respectful of the juice by adjusting the number of pumping depending on the cuvées and the vintages. The maceration is about 3 weeks then the juice is drawn in barrels, lot by lot. The wine is then aged between 16 and 18 months in French oak barrels of which 60% are brand new, in a cellar maintained at 15°.
The wines are topped up 3 times a week to avoid any contact between the wine and the air, the racking is traditional using the so-called "a l'esquive" method. (Zitat Chateaux Leoville Barton)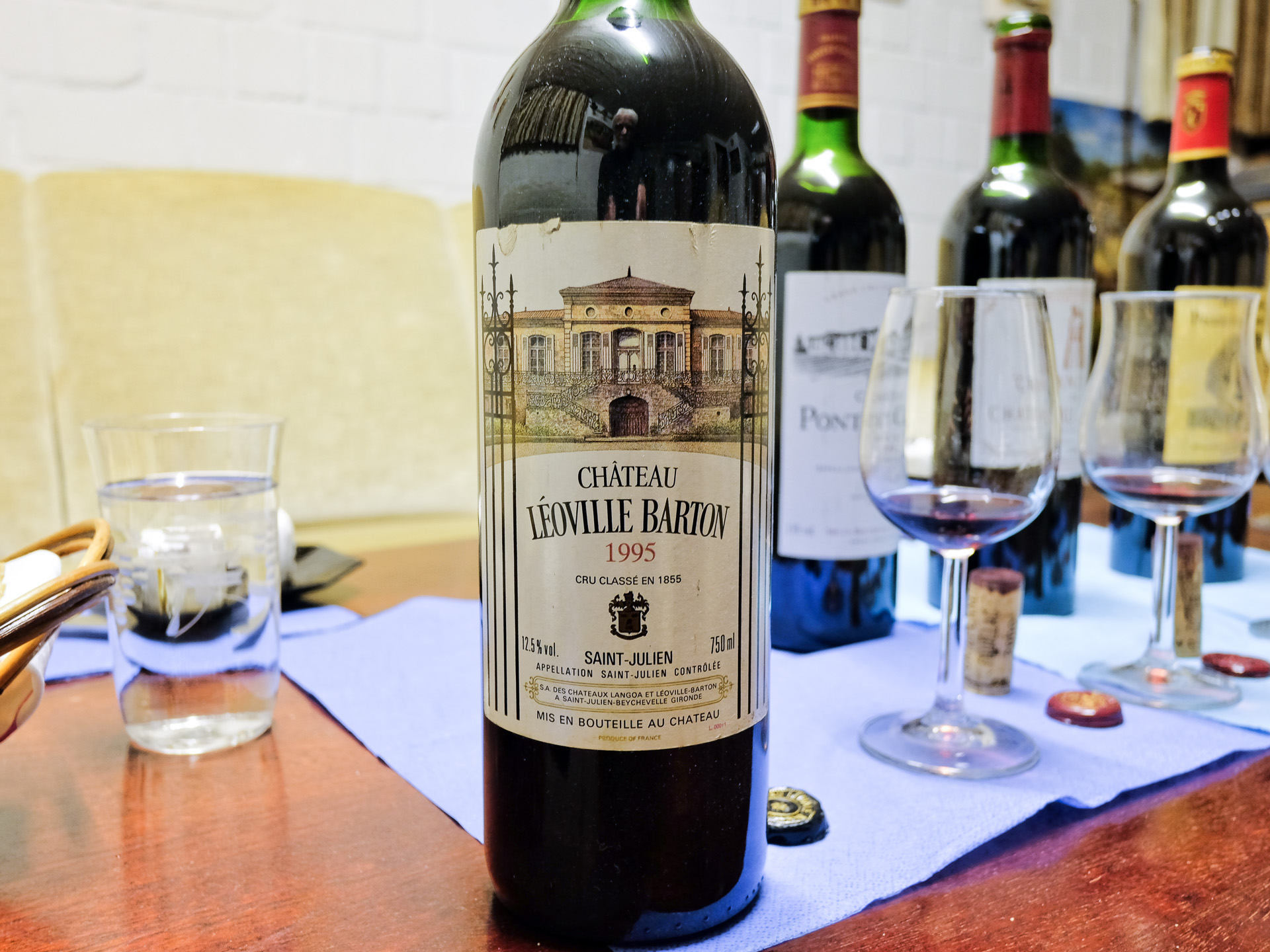 Der Wein hat 91 Parker Punkte.
Somewhat closed and reticent after bottling, but still impressive, this 1995 possesses a dark ruby/purple color, as well as an oaky nose with classic scents of cassis, vanillin, cedar, and spice. Dense and medium to full-bodied, with softer tannin and more accessibility than the 1996, but not quite the packed and stacked effect on the palate, the 1995 is an outstanding textbook St.-Julien that will handsomely repay extended cellaring. (Zitat Wine Advocate)
Der Wein hatte eine würzige, von etwas Teer geprägte Nase, nach 1 h Luftkontakt wurde die Teernote weniger und es kamen auch fruchtige Aromen hinzu. Der Körper war überraschend schlank und noch etwas von Tannin und Säure geprägt. Der Wein hatte eine durchaus spannende Nase, Körper und kurzer Abgang passte nicht richtig dazu. In meinem persönlichen Ranking kam er auf Platz 4.
1998 Chateau Latour
Chateau Latour's Grand Vin is made exclusively from "vieilles vignes", an average of 6o years-old, in the Enclos. Gravettes, Sarmentier, Piece de Chiteau... these are the names of some of the finest plots that express the character of the terroir and forge the wine's identity every year.
The heart of the Enclos is the only terroir that, every year, can produce the depth, elegance and concentration that we expect of the Grand Vin. It is here that the Cabernet Sauvignon (accounting for more than 90% of the blend) can achieve optimal expression in terms of colour, richness and freshness. These wines need time -often a decade- before they begin to be ready for drinking.
In great vintages, the power and energy of Chateau Latour's wines enables them to continue to develop for several decades with ease. The bouquet and impressions on tasting gradually evolve, becoming increasingly complex, ultimately reaching a peak, after which the tannins soften and then the wine slowly declines. Beyond the pleasure of drinking them, these wines can produce powerful feelings and unforgettable moments.

A year full of contrasts: with a high average temperature and low air humidity, 1998 was theoretically a hot, dry year...yet it was extremely troubled! Despite rainy harvests, a "little wine miracle" allowed us to produce a great vintage that will benefit from age. The harvests at Latour took place from 22 September and 5 October, between the showers; at times the very rainy, damp weather made us lose all hope of producing an exceptional vintage... But we had not allowed for nature's capacity to surprise and the strength of a great terroir!
The wines are dense, structured and tannic. The fruit recalls the 1988, but riper, and the constitution of the 1986, but less austere. Long on the palate, these wines develop strong aromas of liquorice and black cherry. Very classic, the Grand Vin is a typical expression of the power of the terroir of Latour's "Enclos". (Zitat Chateau Latour)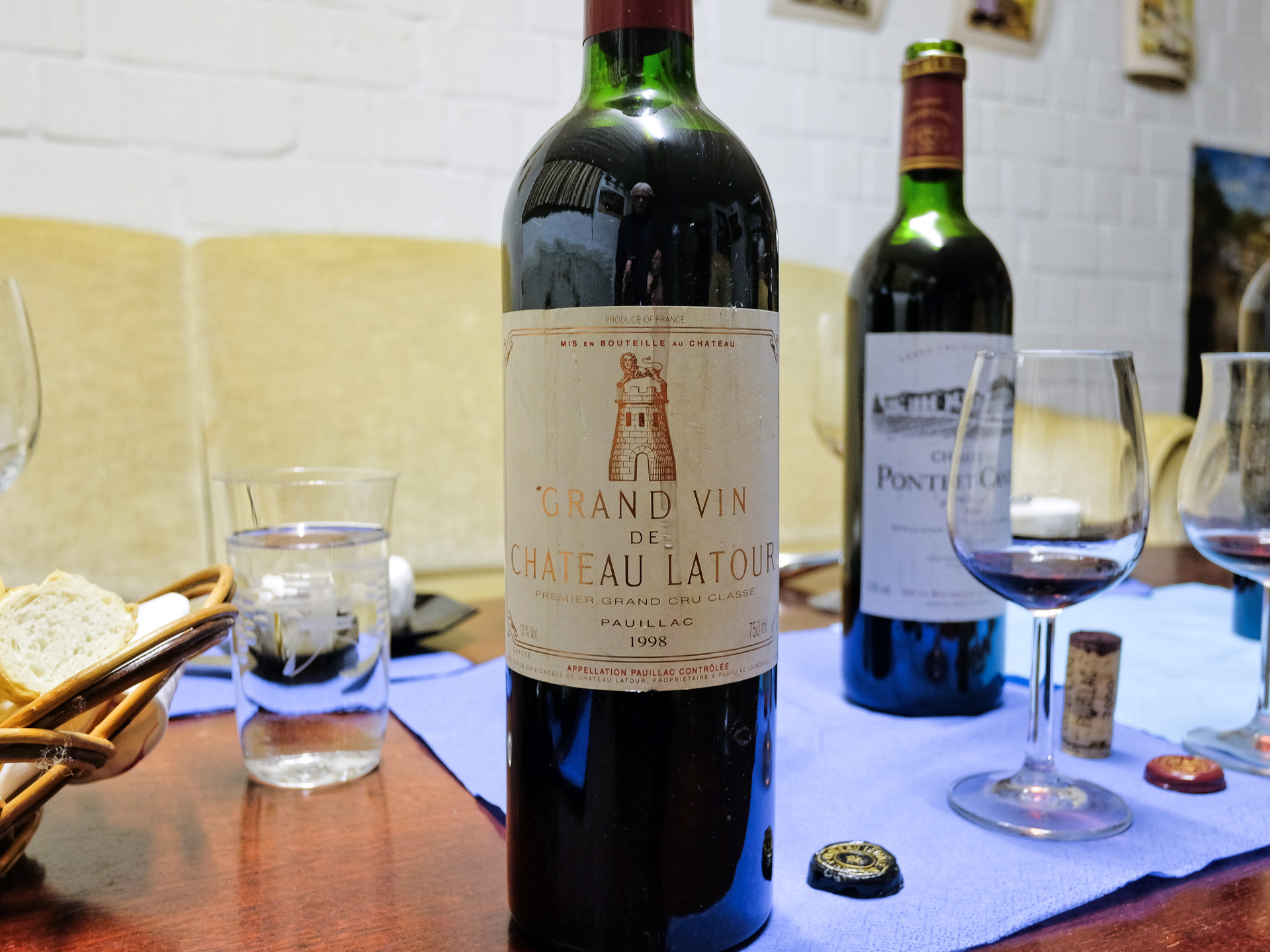 Der Wein hat 90 Parker Punkte.
Not a blockbuster, the 1998 possesses a dark garnet/purple color in addition to a complex bouquet of underbrush, cedar, walnuts, and licorice-tinged black currants. Although medium to full-bodied and moderately tannic, it lacks the expansiveness in the mid-palate necessary to be truly great. Moreover, the tannin is slightly aggressive, although that is hardly unusual in such a young Latour. Anticipated maturity: 2009-2030. (Zitat Wine Advocate)
Der Wein hatte eine feine elegante Nase, einen guten Körper, gut gereift mit ausgewogenen Tanninen und guter Länge. Mit etwas Luftkontakt wurde er etwas Säurebetonter. Ein schöner Wein aus einem schwierigen Jahr, in meinem persönlichen Ranking kam er knapp hinter Chateau Ausonne auf Platz 3.
2000 Chateau Pontet Canet
After a halfhearted early summer, which was followed by a particularly hot and dry August, allowed us, once more, to confirm the age-old proverb that: "The must is made in August".
The dry weather which continued until the 10th October, allowed us to achieve grapes of an exceptional level of maturity.
Tasting: Very intense colour. In the nose, good balance between the fruit (blackberry, strawberry) and the wood (liquorice, grilled note). In the mouth, the attack is rich but very soft. The wine is characterised by a very good length with an imposing structure composed of soft tannins. The finale, which is not aggressive, is very long. (Zitat Chateau Pontet-Canet)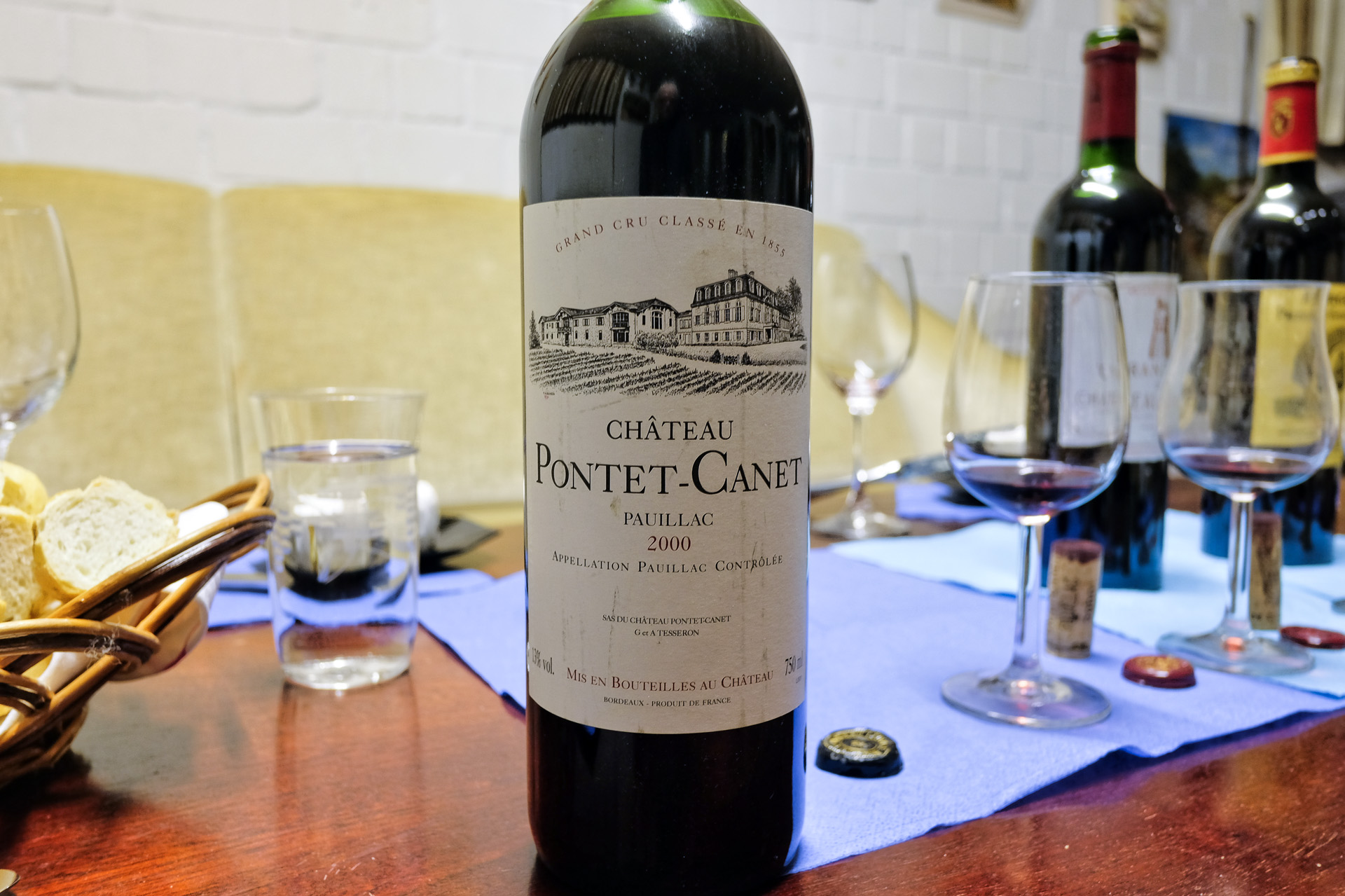 Der Wein hat 92 Parker Punkte.
Tasted at the Pontet-Canet vertical, the 2000 Château Pontet-Canet is perhaps where things start getting interesting, as Alfred Tesseron's top-to-toe reconfiguration of the vineyard and vinification began to impact and ameliorate the wine. It has a lovely bouquet of blackberry and briary fruit, hints of black truffle developing, later damp earth. There is an intensity here, if not the complexity of the best millennial Pauillacs. The palate is medium-bodied with a mixture of red and black fruit, cedar and sous-bois percolating up through and rendering it a serious Pontet-Canet in keeping with the vintage. There is a subtle and yet insistent grip on the finish. It has always been a tannic wine, but these are now softening, albeit at a slower pace than some might like. Therefore, I might be inclined to hold on to bottles for another 3-4 years. Tasted February 2016. (Zitat Wine Advocate)
Der Wein hatte eine schöne tiefe Farbe und eine feine Nase, fruchtig mit leicht animalischen Noten. Einen guten Körper mit feinem Aroma, harmonischen Tanninen und feiner Süße und guter Länge. Nach 1 h wurden die animalischen Noten etwas weniger. Ein schön ausgewogener Wein, da machte sich auch das gute Jahr bemerkbar, in meinem persönlichen Ranking kam er auf Platz 1.
2007 Chateau Angelus
In July and August the vines were very closely monitored, depending on individual needs, to compensate for the poor weather conditions of the early summer. Very fine weather in September provided superb ripening conditions. Flavours and aromas developed and the tannins matured. On tasting the wines displayed very deep colour, lovely fruity aromas with mineral notes and fresh, silky texture. Long and pure on the finish. (Zitat Chateau Angelus)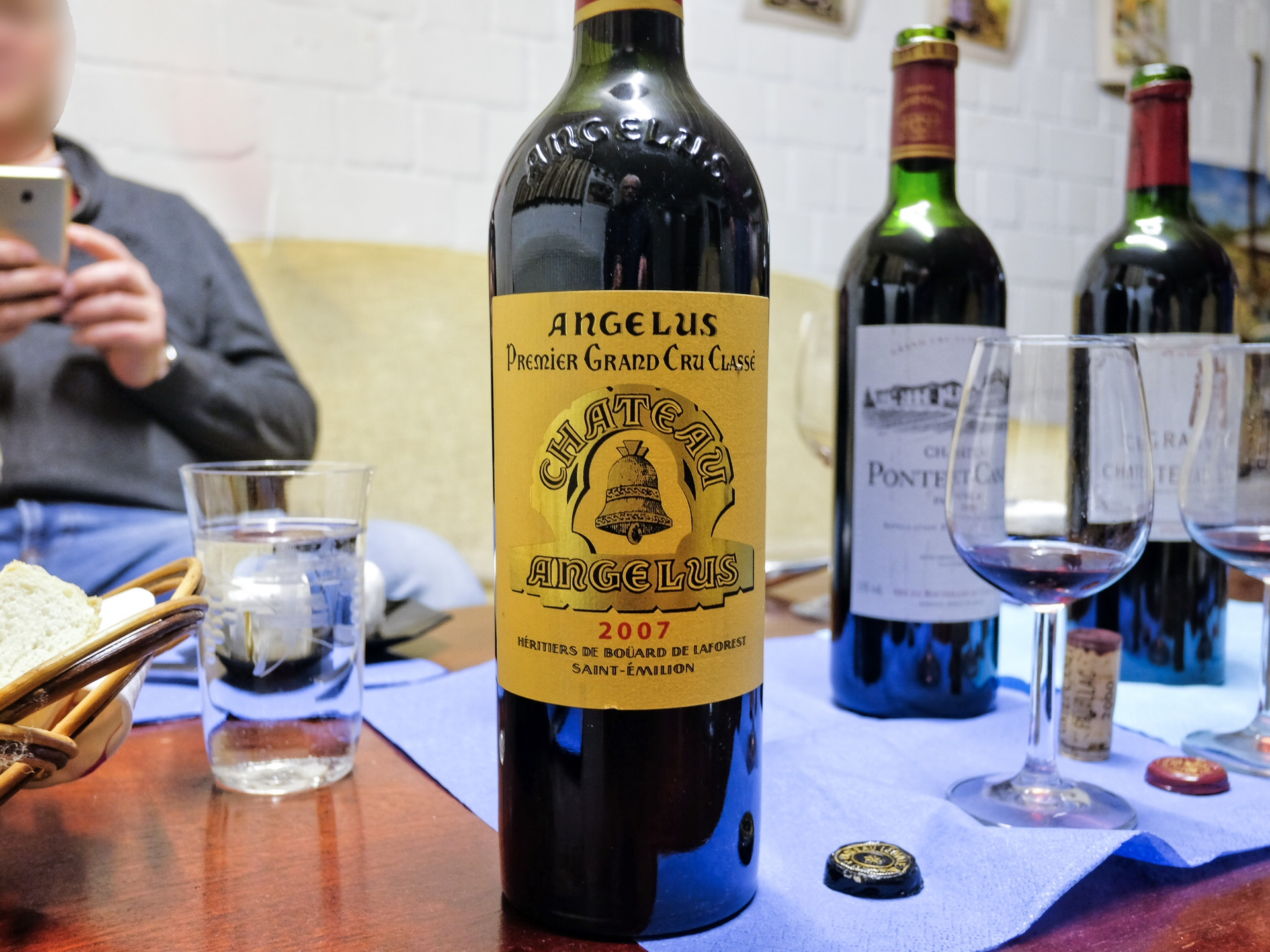 Der Wein hat 92 Parker Punkte.
A super effort from proprietor Hubert de Bouard, this blend of 62% Merlot and 38% Cabernet Franc exhibits sweet notes of chocolate, charcoal, blackberries, and jammy cherries in its round, opulent, fleshy personality. Yields were 35 hectoliters per hectare, and the wine achieved 13.5% natural alcohol. Low acidity and ripe tannin make for a voluptuous style of Angelus to drink now and over the next 10-15 years. (Zitat Wine Advocate)
Der Wein hatte eine feine Nase mit schön reifer Frucht, einen guten Körper, schön reif mit guter Länge. Nach 1 h Luftkontakt baute die Nase etwas ab. Ein trotz den jungen Alters schön zugänglicher Wein, da macht sich der hohe Merlotanteil bemerkbar. Ein schöner voller Wein, es fehlte ihm aber etwas Komplexität, in meinem persönlichen Ranking kam er auf Platz 2.
---