Die Hanse Spirit fand zum 9. Mal vom 31.01. bis zum 02.02.2018 in der Fischauktionshalle statt. Das war nach 2016, 2017 und 2018 mein 4. Besuch. Der Eintritt kostet 15 €, das Probierglas ist inclusive. Die Liste aller Proben.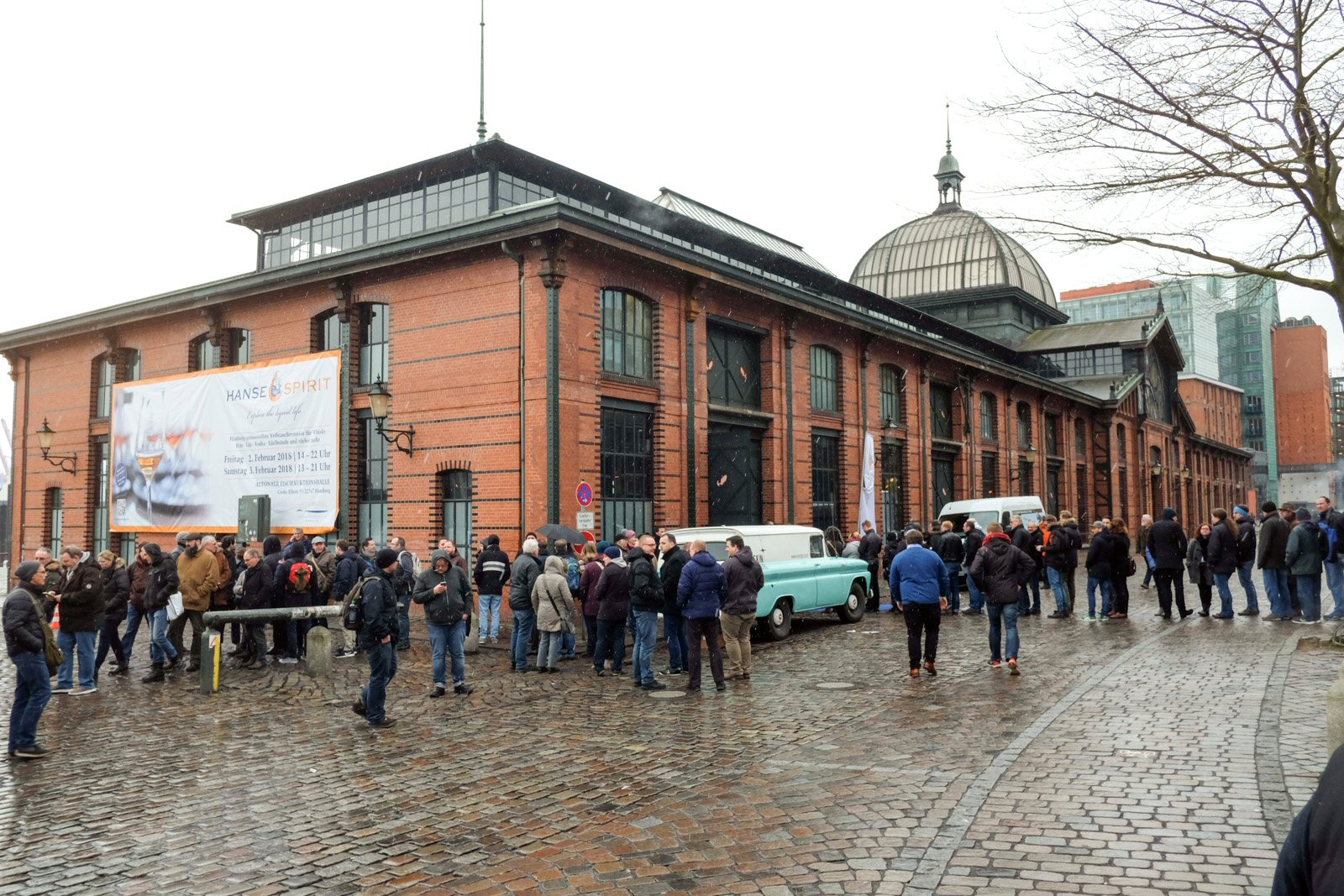 Die Fischauktionshalle 2018.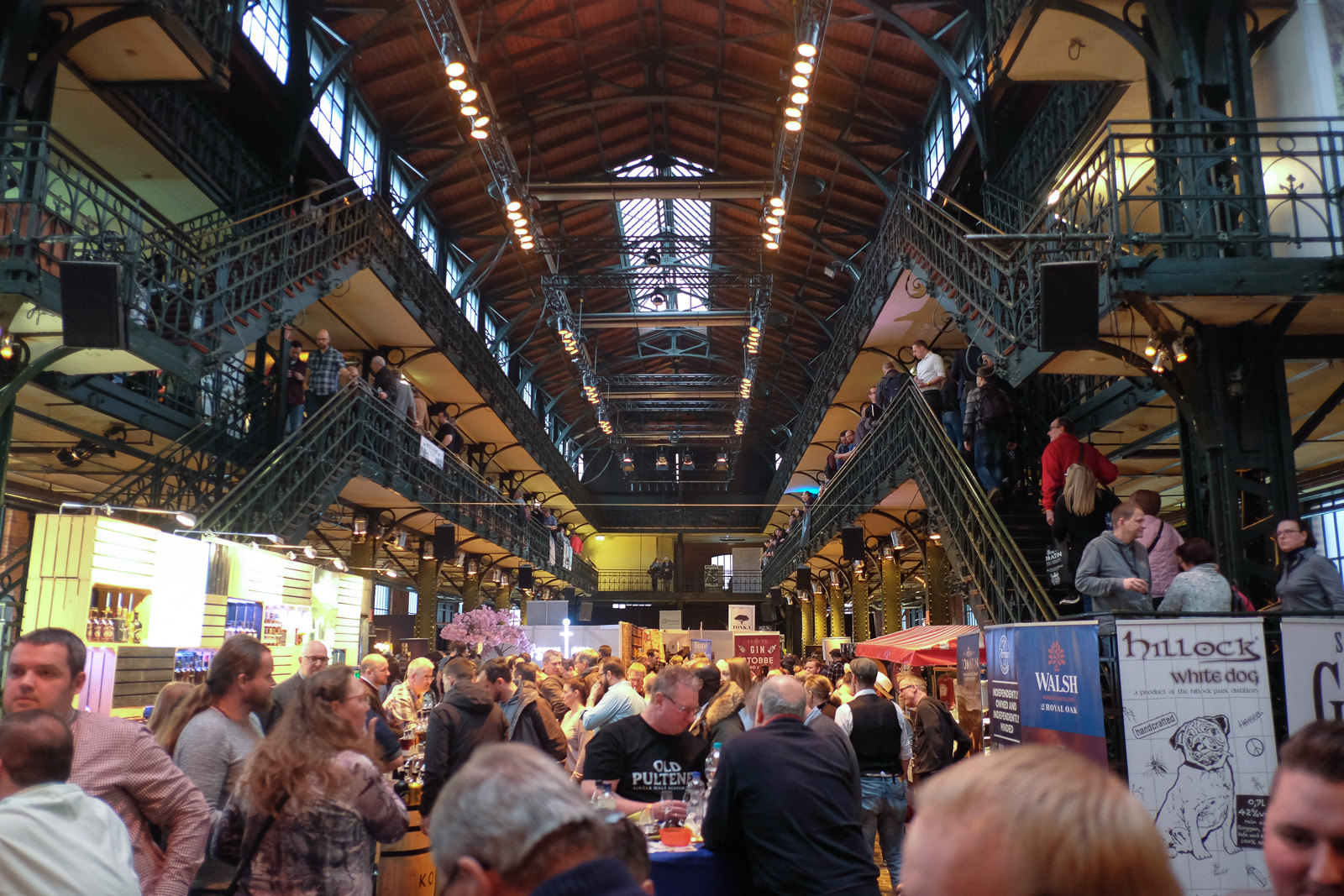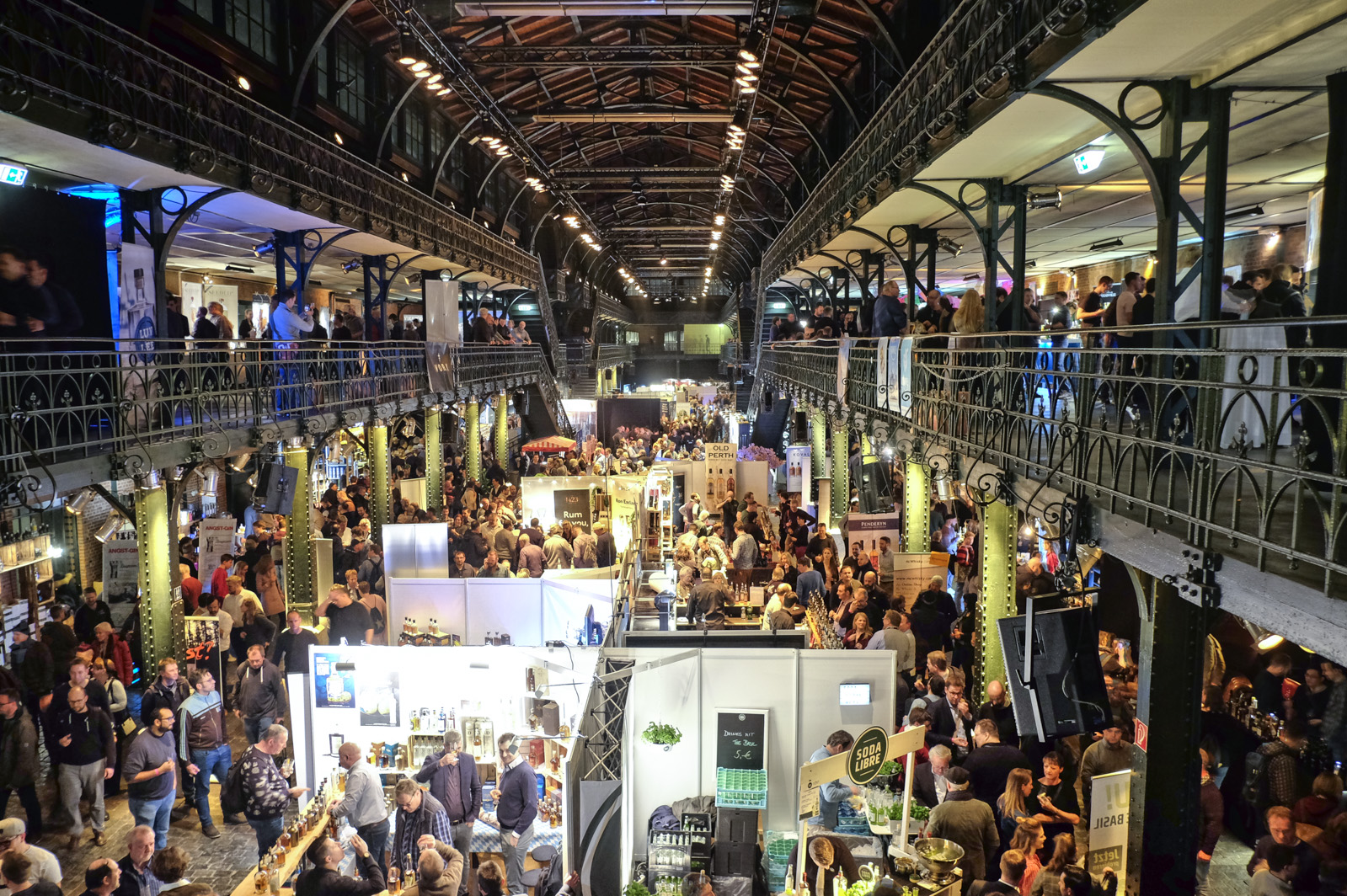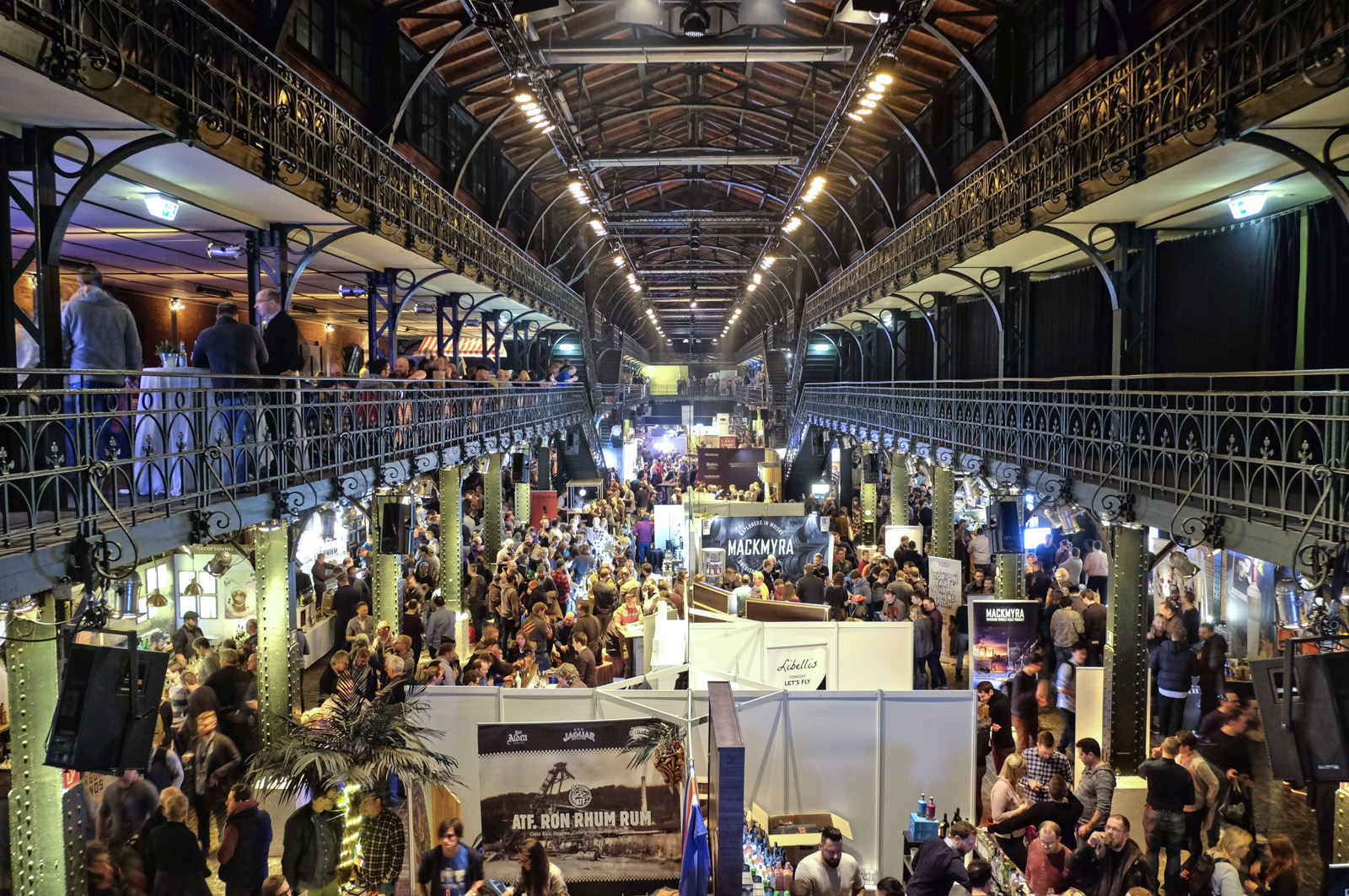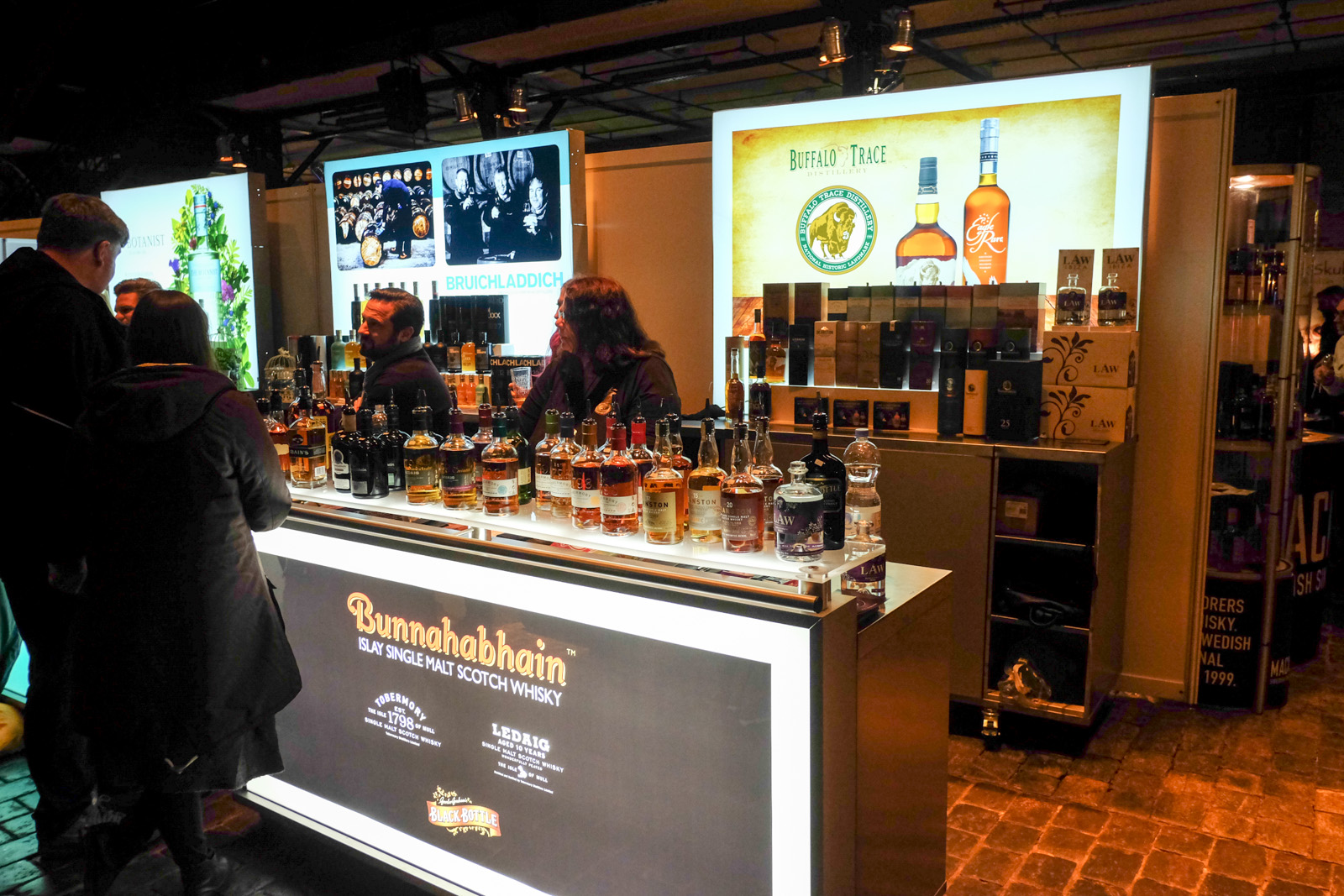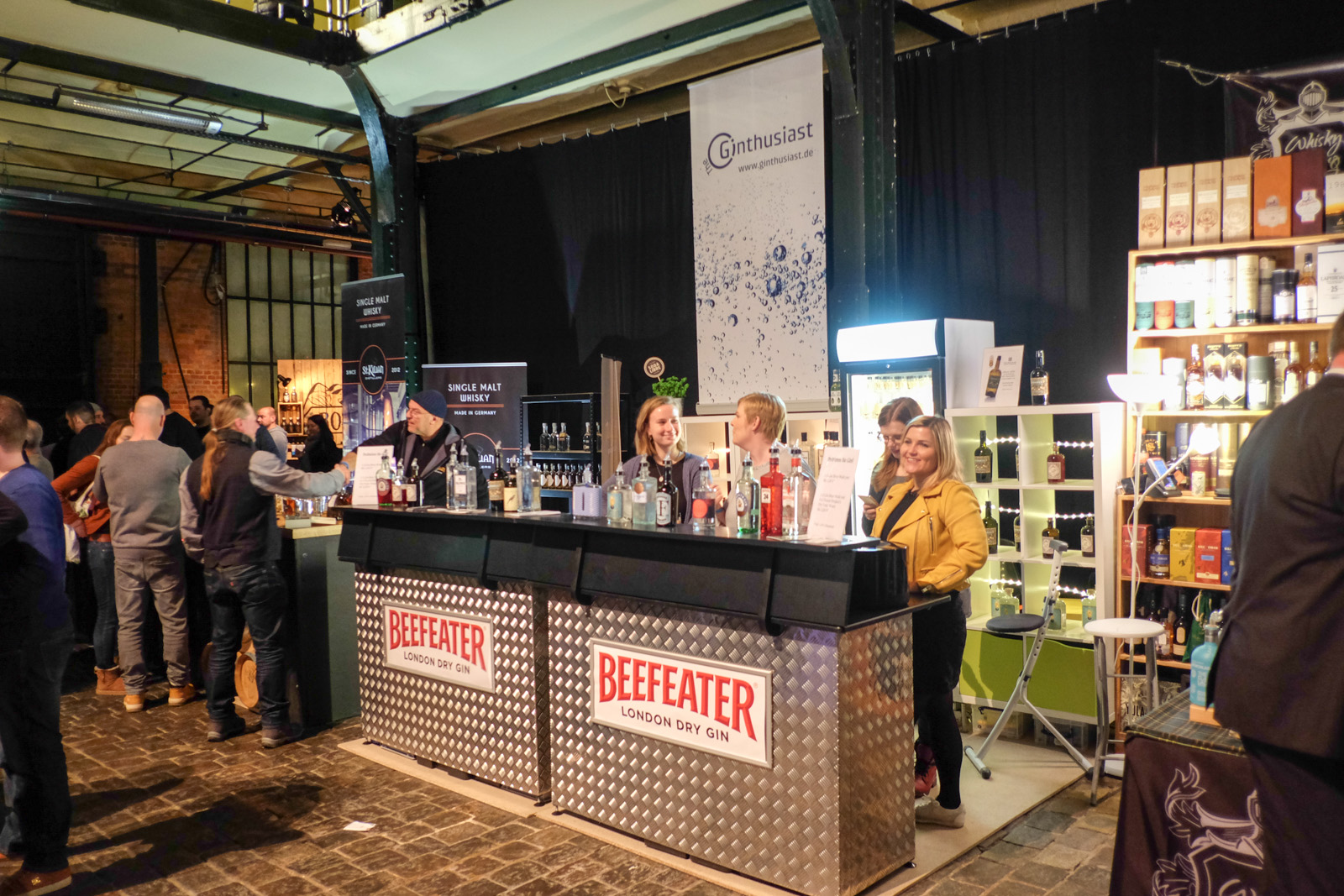 Die Auswahl auf der Messe ist schon überwältigend und man weiß nicht was man zuerst probieren soll. Da meine Kapazität nummal begrenzt ist habe ich mich auf ältere Raritäten konzentriert. Neben Whiskys habe ich diesmal auch Rum und Cognac probiert.
Die Proben (in zwei Tagen)
Ja, da waren ein paar nette Tropfen dabei, die Investition (Proben ohne Eintritt) von 204 € hat sich gelohnt.
Talisker 25 Jahre, Skye Single Malt Scotch Whisky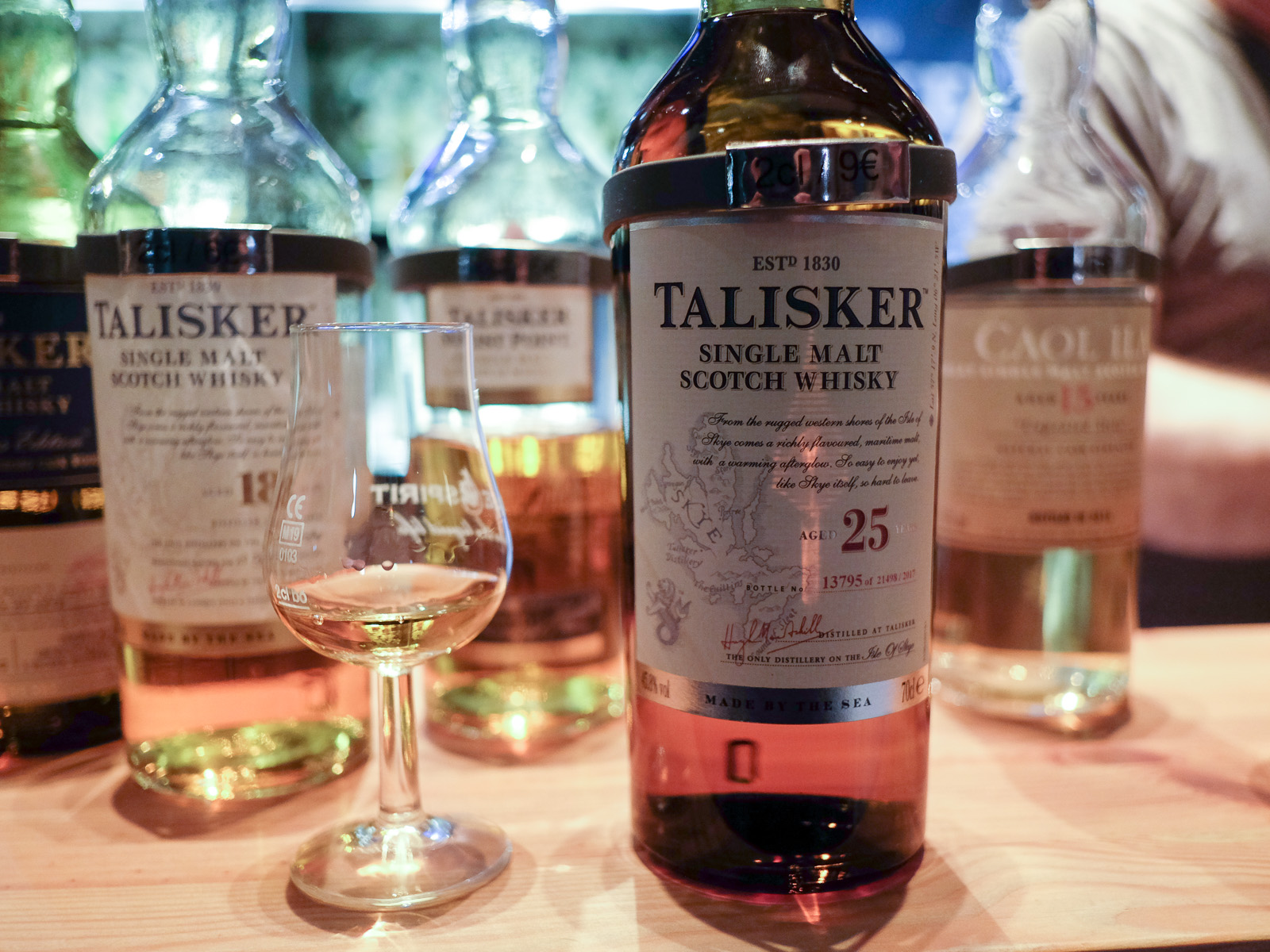 Ein eleganter Whisky, fruchtig und leicht rauchig.
Caol Ila 1980, Islay Single Malt Scotch Whisky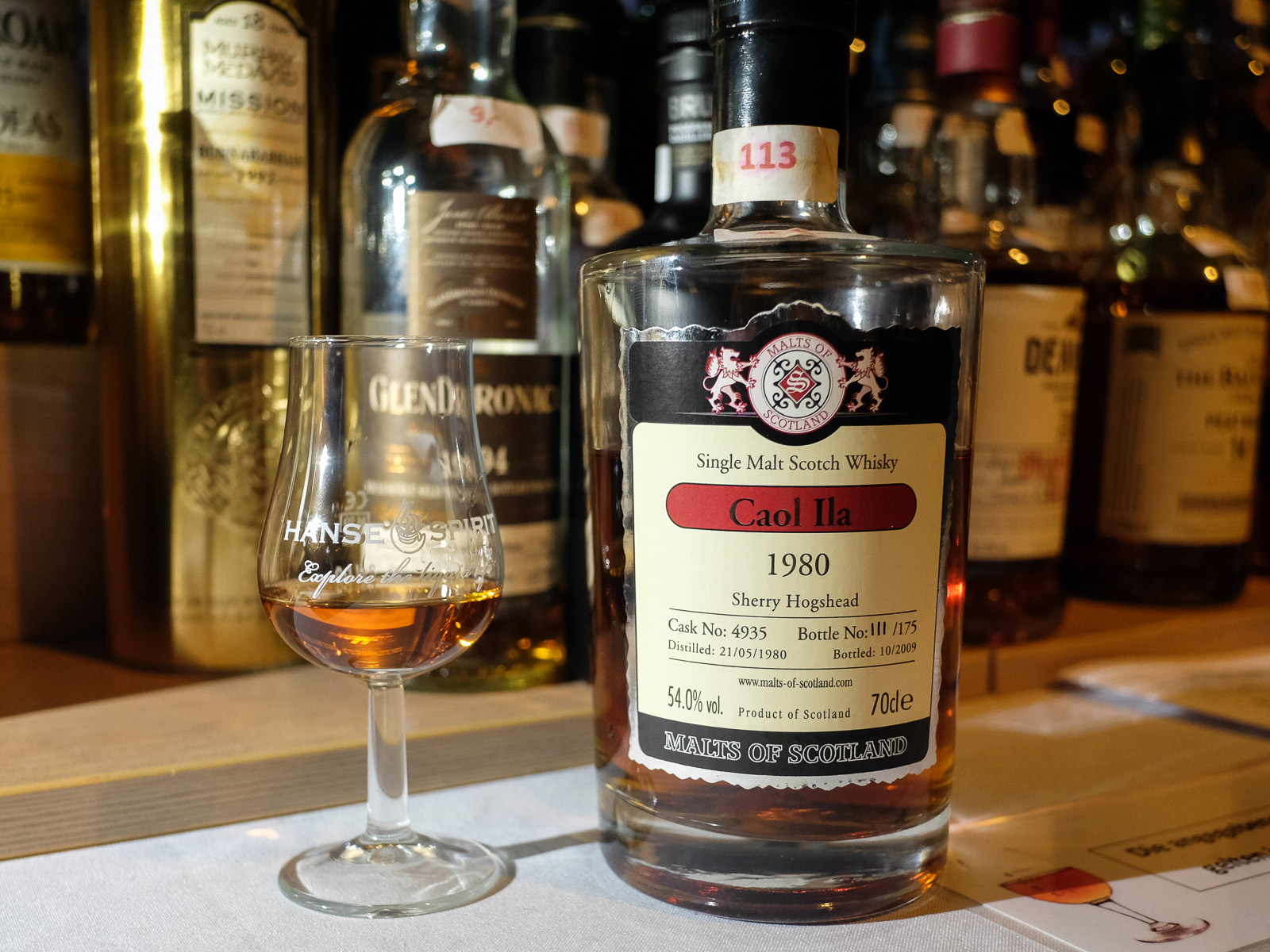 Laphroaig Cairdeas, Islay Single Malt Scotch Whisky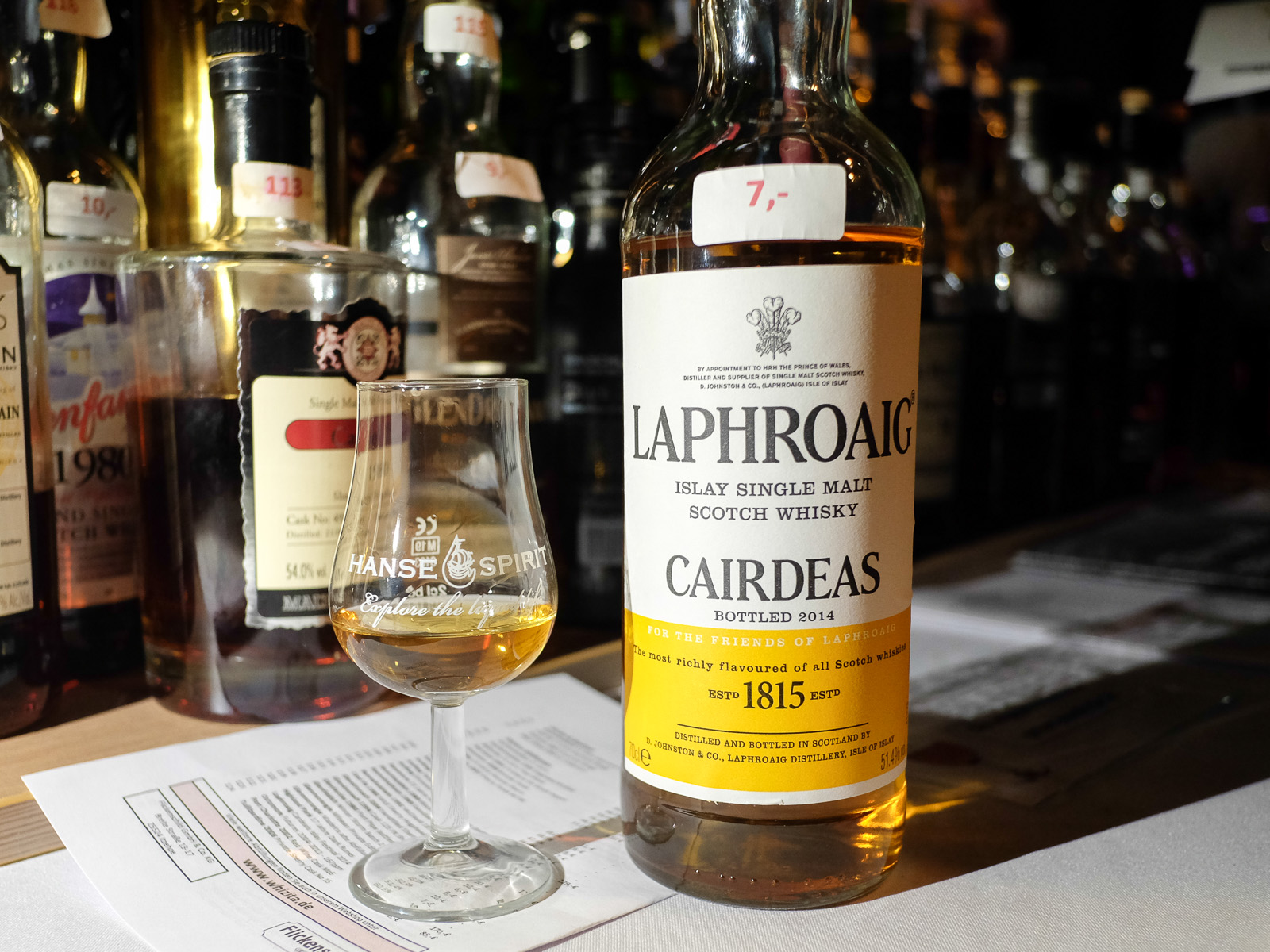 Bunnahabhain 25 Jahre, Islay Single Malt Scotch Whisky
Our 25 Year Old is the 'super-premium' member of our core range and another heavy hitter in the awards department.
With a strong sherry influence, our 25 Year Old is the perfect example of how well Bunnahabhain matures and the extent of the complex range of sweet oaky layers and nutty flavours which can be achieved by those few extra years in cask. (Zitat Bunnahabhain)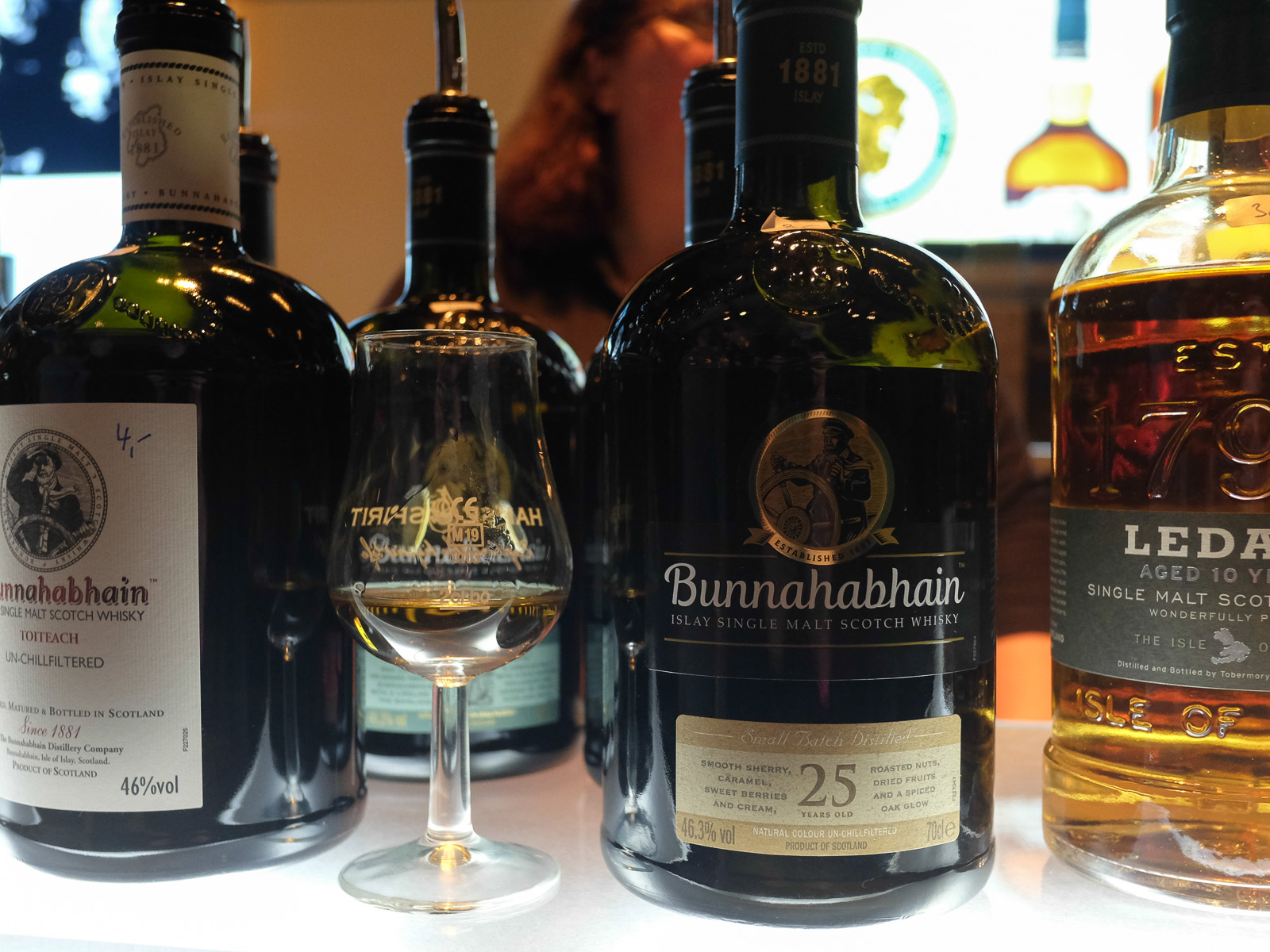 Glenfiddich Winter Storm, Speyside Single Malt Scotch Whisky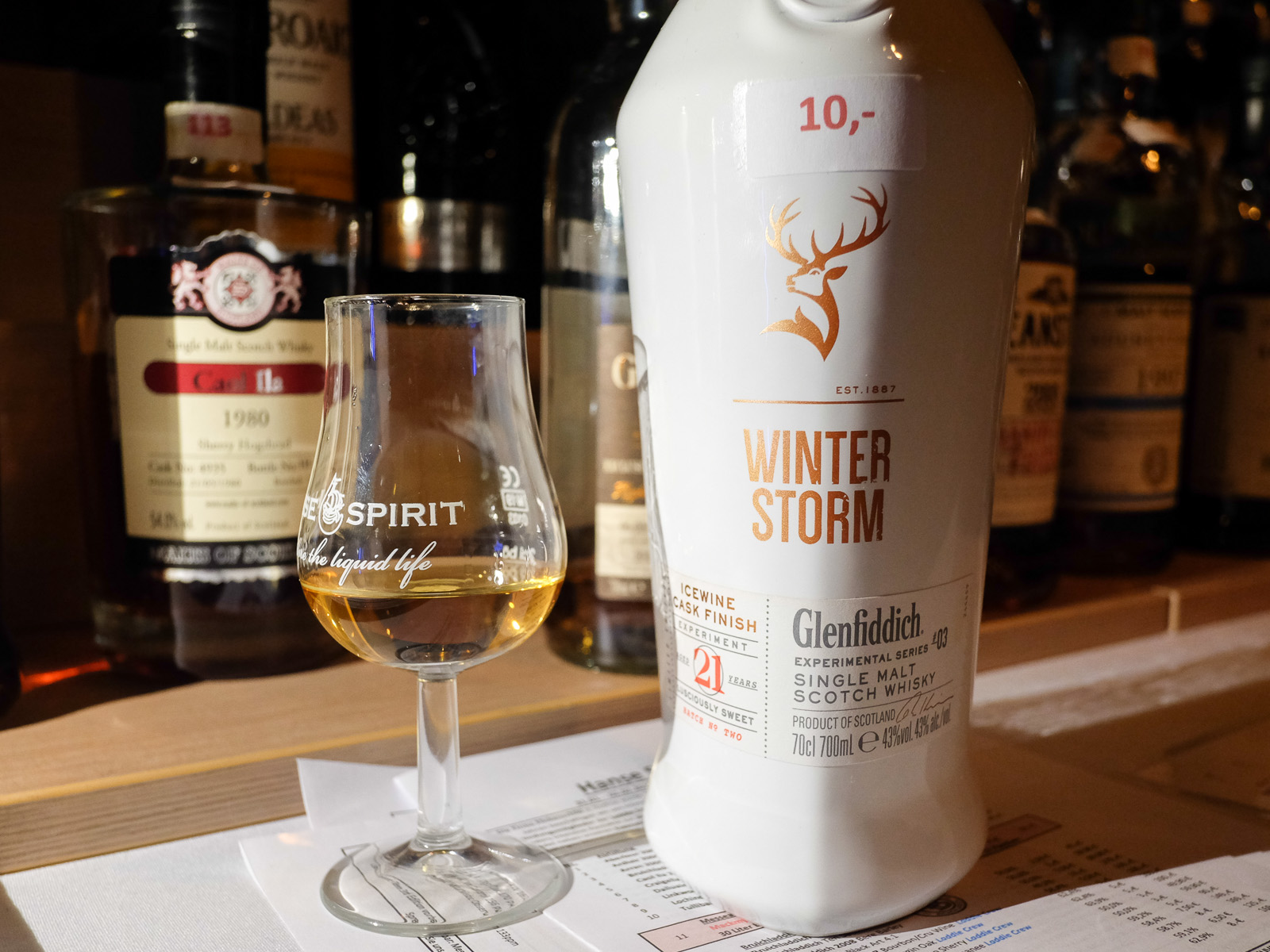 Ron Millonario 10 Jahre, Peruanischer Rum
Warm amber in colour, it has an easy and never aggressive nose. Candied oranges, bergamot tea, vanilla and a hint of cola nut are its main aromas. At the palate, it's lighter and fresher than the older expressions: mainly it tastes of chestnut and acacia honey, candied oranges and citrons and sultana raisins. Slightly hidden, but still evident, are nuts, chocolate, desiccated plums and apricots. Only at the end a peppery sting from the alcohol becomes just noticeable. (Zitat Ron Millonario)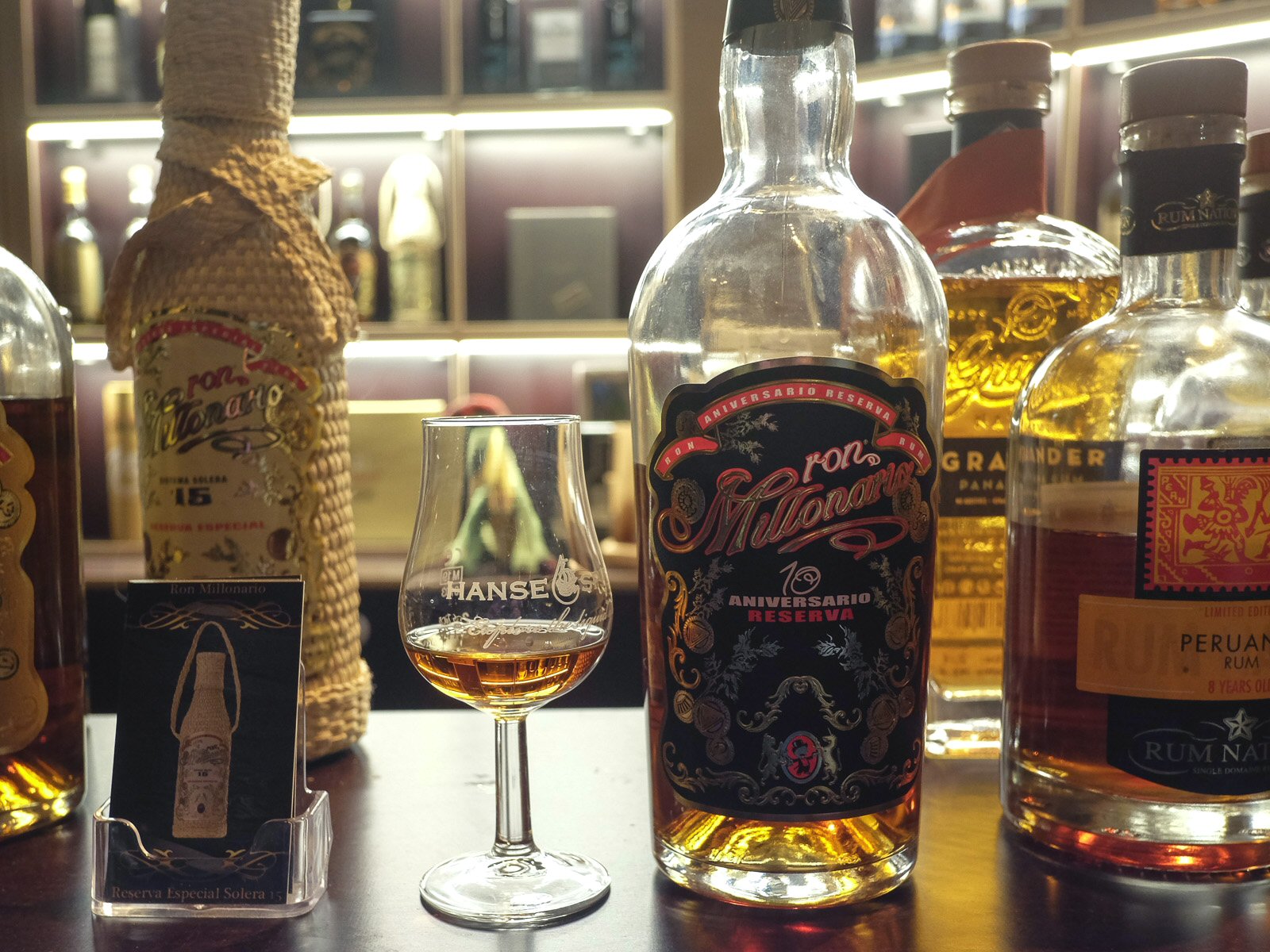 | | | |
| --- | --- | --- |
| | Brennerei | Ron Millonario |
| | Region | Peru |
| | Typ | Rum |
| | Finish | Bourbon Fässer |
| | Alter | 10 Jahre |
| | Alkohol | 40,0 % vol. |
| | Preis | 30 € (0,7 l) |
Ron Cartavio XO 18 Jahre, Peruanischer Rum
Sight: Attractive deep mahogany color. Smell: Complex and sophisticated, simultaneously strong and sweet. Beautifully assembled, intense aromas of spices, nuts, vanilla and chocolate. Excellent quality of wood, contribution of American oak, French and Slovenian. Taste: Very smooth and flavorsome. Confirms the excellence of what is perceived on the smell; extraordinary texture and flavor, lasting finish, very persistent.
Achieved by the mix of Cartavio's most precious and aged rums using the Solera-Criadera method. (Zitat Cartavio Rum Company)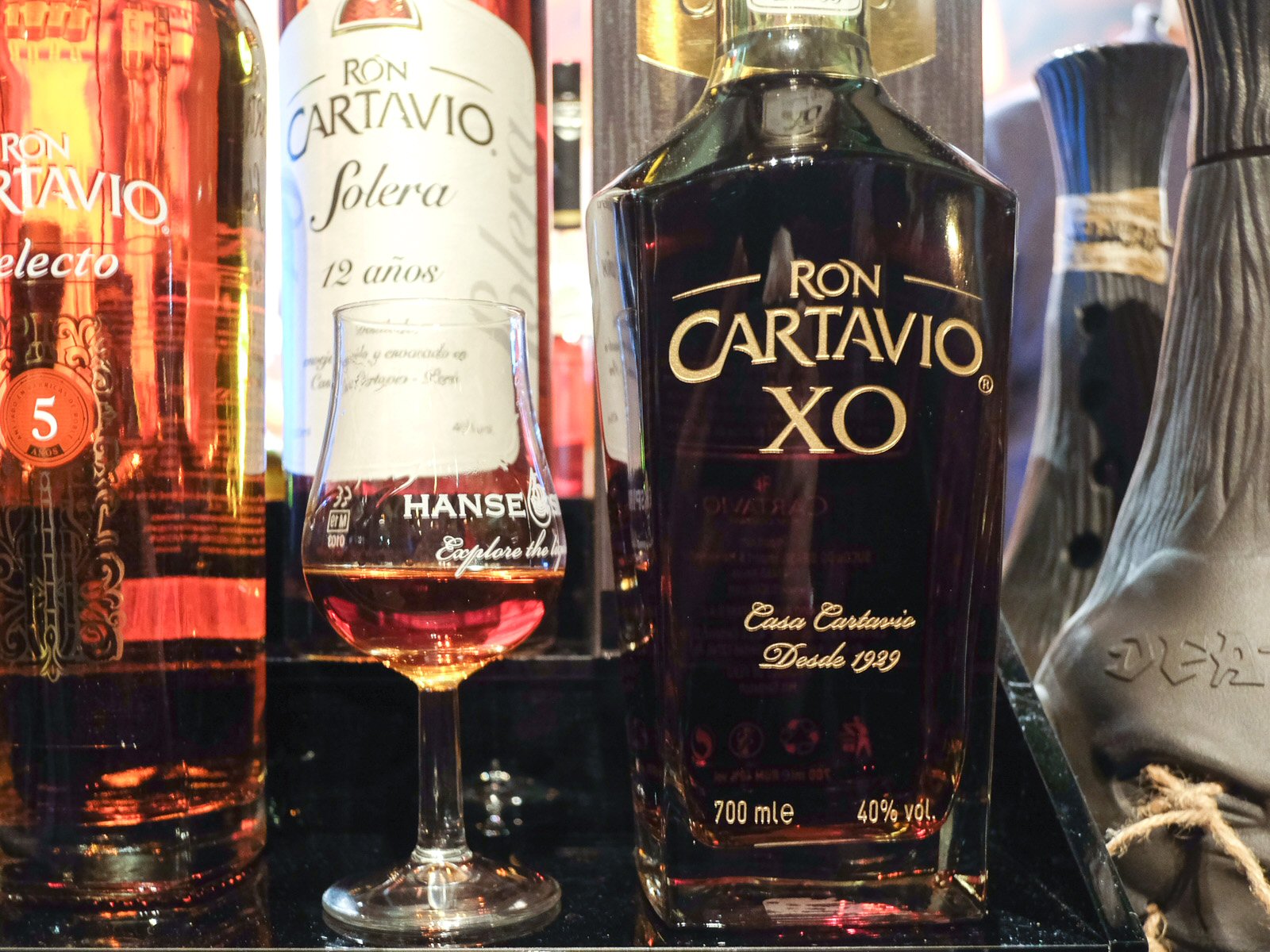 Ron Botucal 2004, Venezolanischer Rum
Botucal Single Vintage is crafted from a selection of special rum reserves that evolved in an exceptional way, drawing the interest of the Maestros Roneros for their distinctive character. This special liquid is separated from the rest of the reserves for its uniqueness, and to be shared with rum enthusiasts. Distilled in vintage copper pot stills in the year indicated on the label, the rum is then aged in bourbon and single malt whisky casks for twelve years.
After the aging process, the Maestros Roneros carefully blend the rum in order to obtain the structure, body, personality, flavors and aromas that they are looking for. Finally, the rum spends a year in Spanish sherry casks to provide the perfect finish. (Zitat Botucal Rum)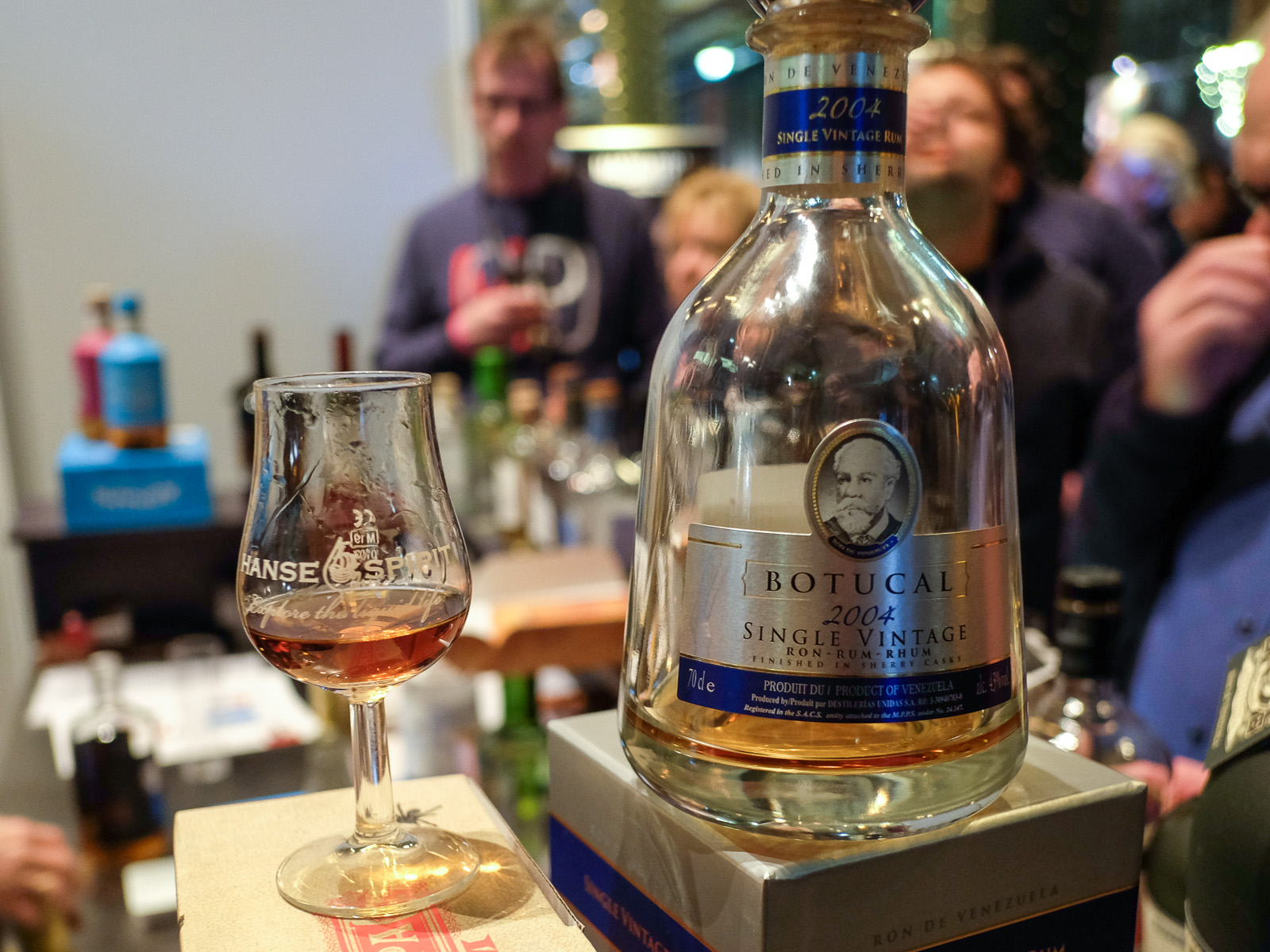 | | | |
| --- | --- | --- |
| | Brennerei | Botucal Rum |
| | Region | Venezuela |
| | Typ | Rum |
| | Destilled | 2004 |
| | Alkohol | 43,0 % vol. |
| | Preis | 90 € (0,7 l) |
Santa Teresa 1796, Venezolanischer Rum
To commemorate the Hacienda's bicentennial in 1996, Alberto Vollmer Herrera, member of the 4th generation of the family, challenged the company to develop a rum that could leverage all of its mastery learned in the first 200 years.
Santa Teresa 1796 is a bold and elegant rum with blends up to 35 years aged in bourbon oak barrels, then further aged through the artisanal Solera method resulting in a dry, smooth and balanced rum. (Zitat Santa Teresa Rum)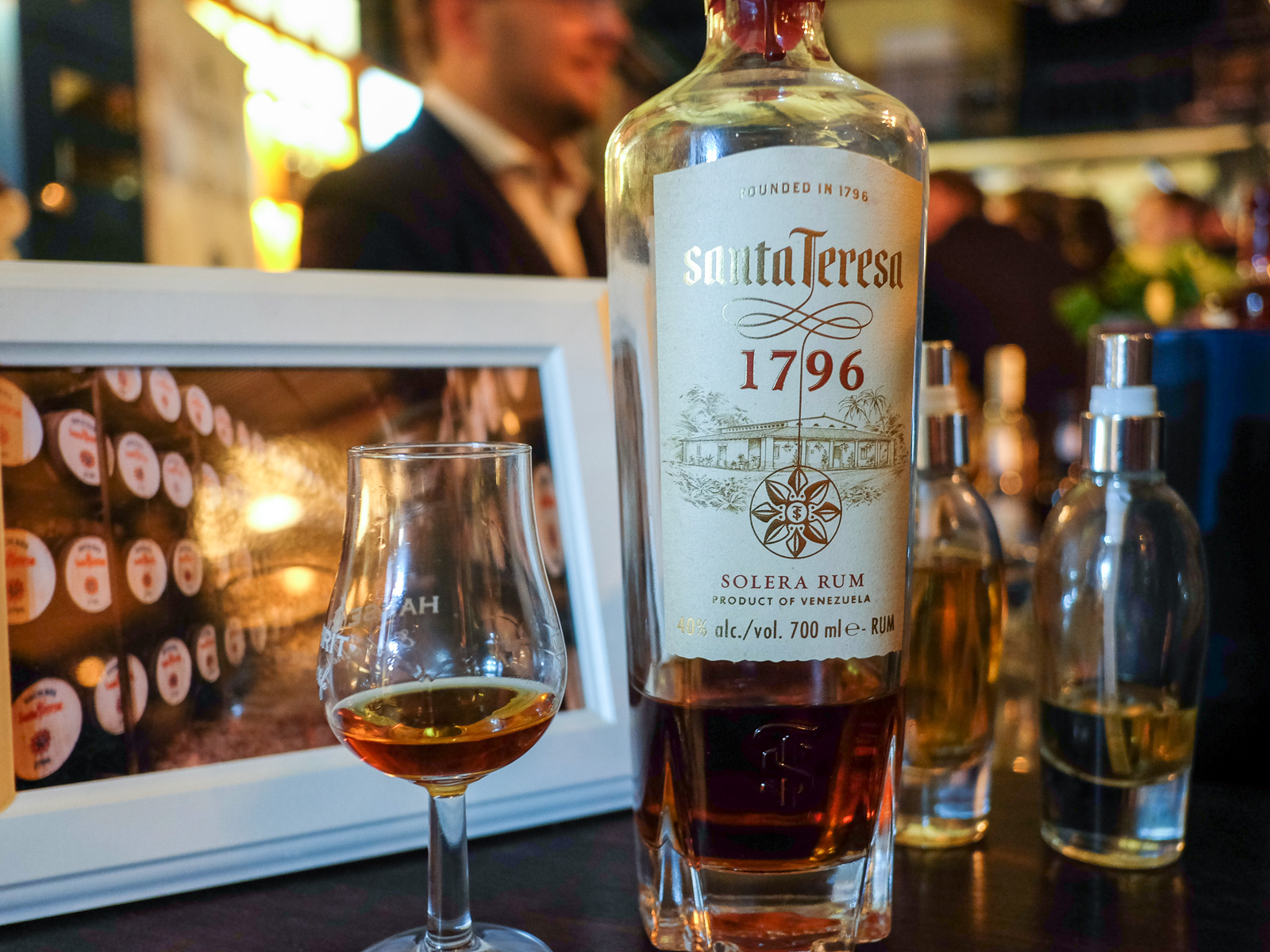 | | | |
| --- | --- | --- |
| | Brennerei | Santa Teresa Rum |
| | Region | Venezuela |
| | Typ | Rum |
| | Alter | Solera |
| | Alkohol | 40,0 % vol. |
| | Preis | 40 € (0,7 l) |
Santos Dumont XO 20 Jahre, Brasilianischer Rum
This Limited Edition Super Premium Rum is produced from 100% Pure Virgin sugar cane honey and has aged according to a special Triple Cask Maturation method in old Bourbon P.X. Sherry and Port wood barrels.
Each cask is specially selected and bottled by hand by our Master Distiller. (Zitat Santos Dumont Rum)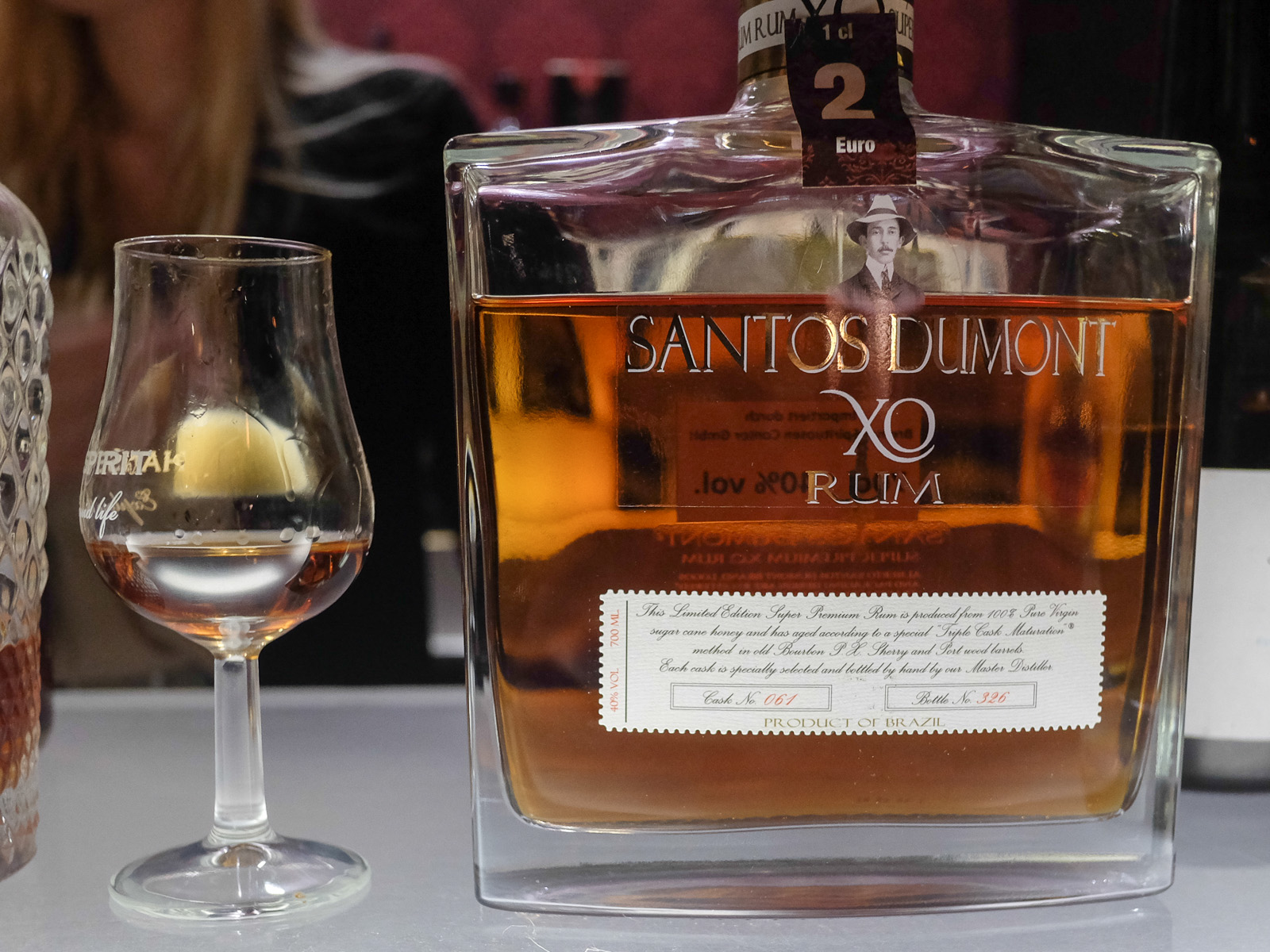 | | | |
| --- | --- | --- |
| | Brennerei | Santos Dumont Rum |
| | Region | Brasilien |
| | Typ | Rum |
| | Finish | exBourbon-Barrels, exPortwein- und exPedro Ximenez-Sherryfässer |
| | Alter | 20 Jahre |
| | Alkohol | 40,0 % vol. |
| | Preis | 55 € (0,7 l) |
Ein sehr weicher Rum.
Hennessy XO, Cognac
The 100 eaux-de-vie assembled to create X.O were aged for a long time – at least 12 years – to give an unparalleled robustness. Maurice Hennessy gave the name X.O to this extraordinary "extra old" cognac.
Its intense and deep amber colour is a sign of its strength. Its flavours of candied fruit and its subtle and lightly spicy nose create a complete harmony: a mark of its roundness. To taste, a smooth, full sensation gives a simultaneously powerful and soft tonality with a hint of cocoa and a warm fruity presence. The long finish expresses all the complexity of the cognac's blending and its long aging process. (Zitat Hennessy)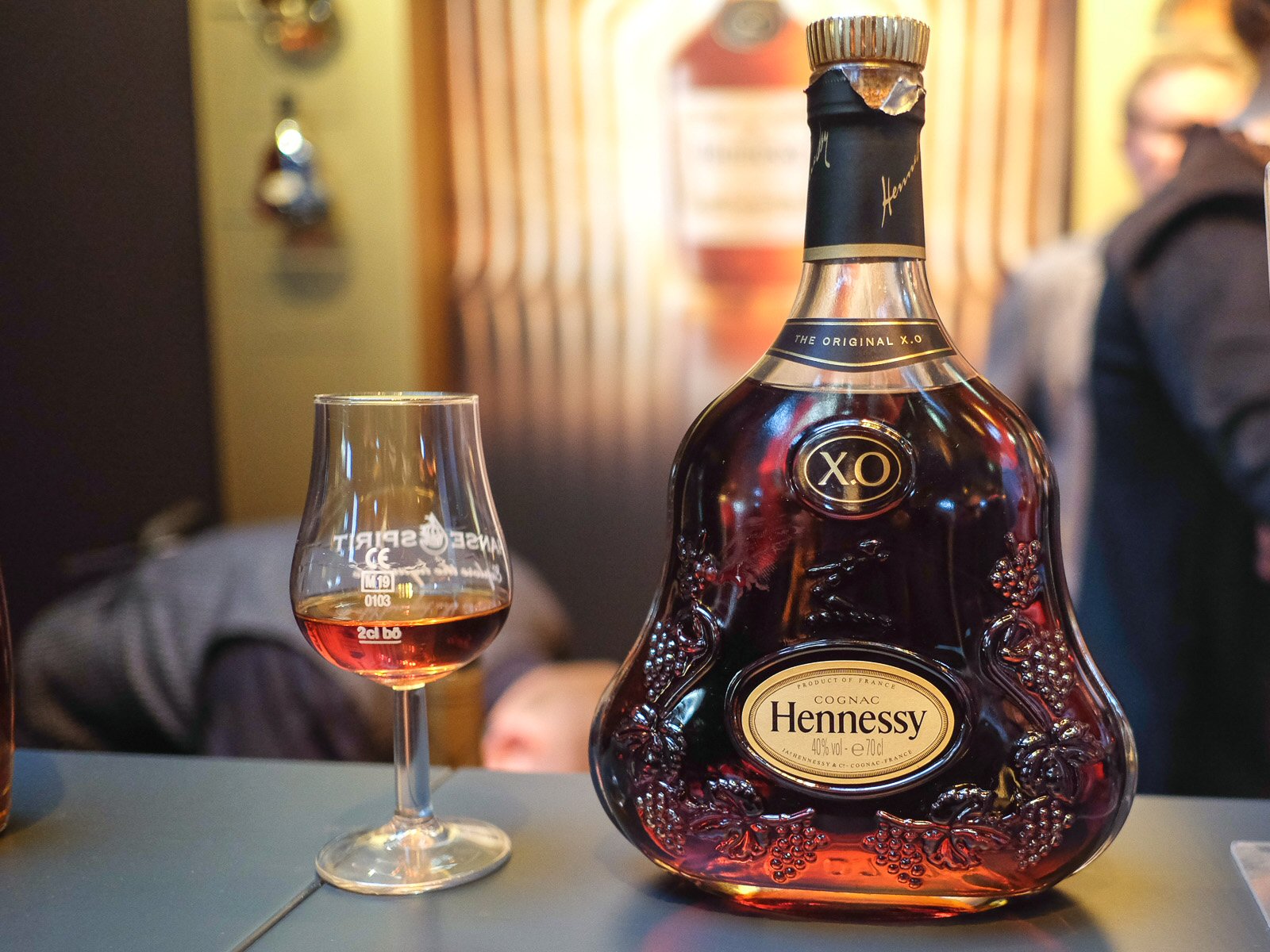 Glenfarclas 40 Jahre Warehouse Edition, Speyside Single Malt Whisky
Autumn gold, rays of morning sunshine, fresh sweetness, fruity turkish delight light heather honey spread liberally over freshly buttered toast, freshness and power is similar to the first time you open a bag of freshly ground java coffee beans. Sweet taste, followed by a peppering of caramel and chocolate explosions in your mouth, like eating chocolate crispy treats. Sherry power creeping its way to the back of your mouth releasing dark chocolate, raisins and sultanas. Sweet crisp dry lingering finish. A whisky that will be a perfect dram on a summers day, or on a long dark winter night. (Zitat Glenfarclas Distillery)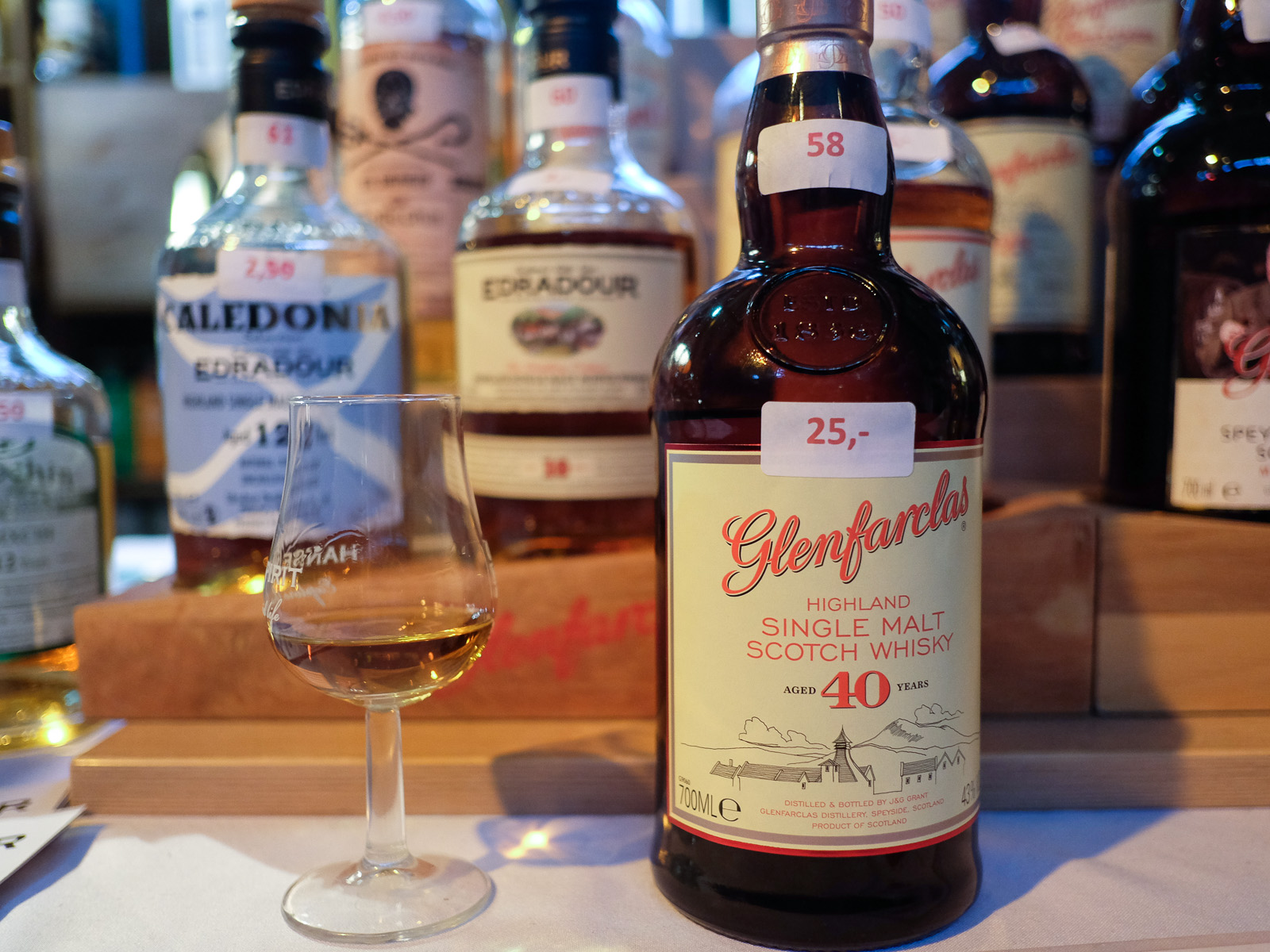 Schöner eleganter Whisky.
Old Perth Single Cask 46 Jahre, Blended Grain Scotch Whisky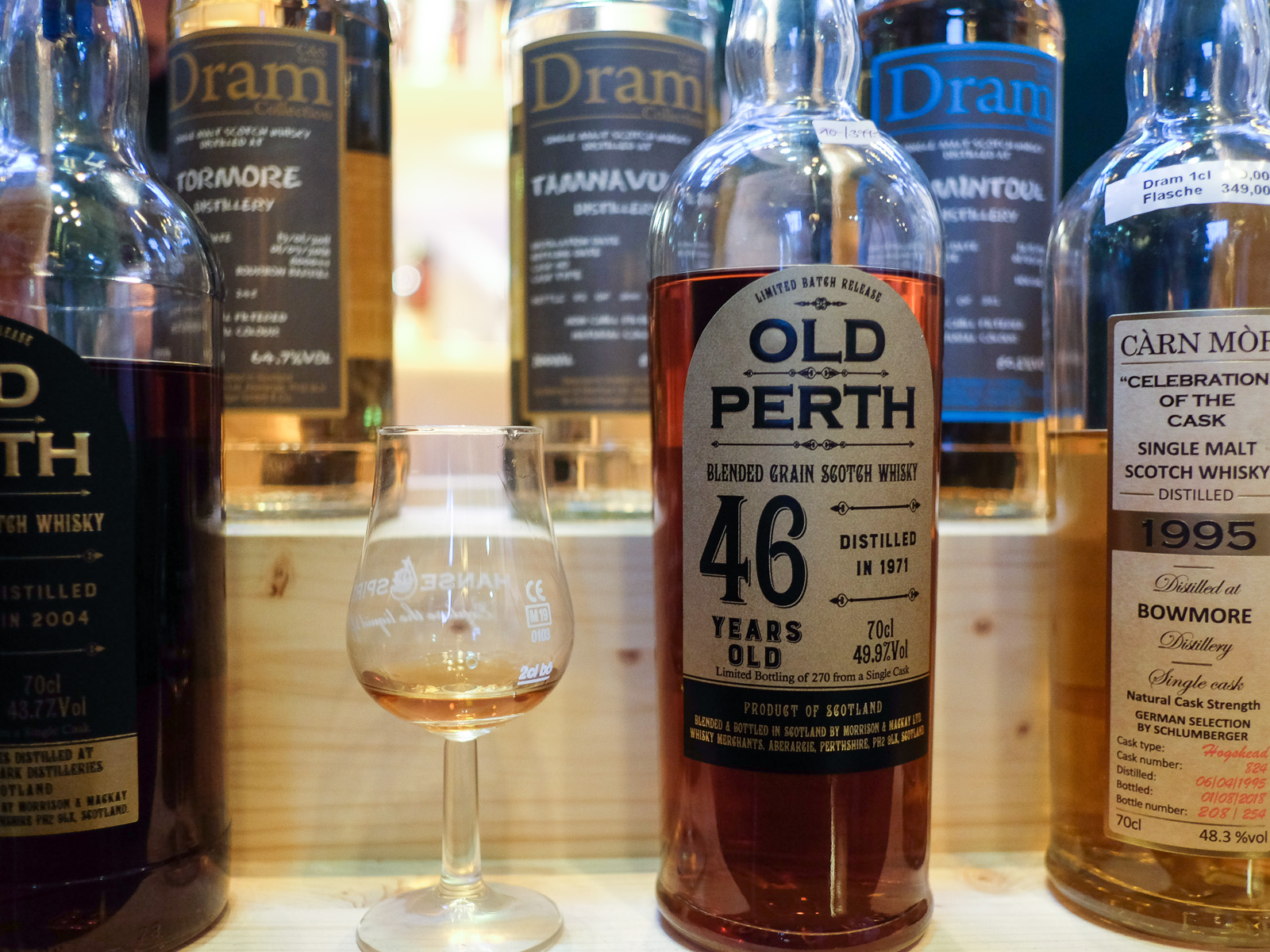 Von diesem Whisky gibt es weltweit nur 270 Flaschen.
Excalibur 1972 45 Jahre, Blended Scotch Whisky
The Excalibur is our range of deluxe blended whisky hand bottled and only available in small batches.
Specially selected casks with whiskies aged only in the finest wood and blended together for a dram of outstanding texture, body and taste.
The Excalibur range will all be bottled at cask strength, with no chill-filtration or colouring, keeping all the oils, fats and enzymes in the glass.
The first release of Excalibur is a 45 year old with the youngest whisky component in the blend from 1972. This incredible whisky has been maturing slowing for nearly 5 decades in the same wood, making this a really exciting dram, elegant, smooth and fruity. (Zitat Meadowside Blending)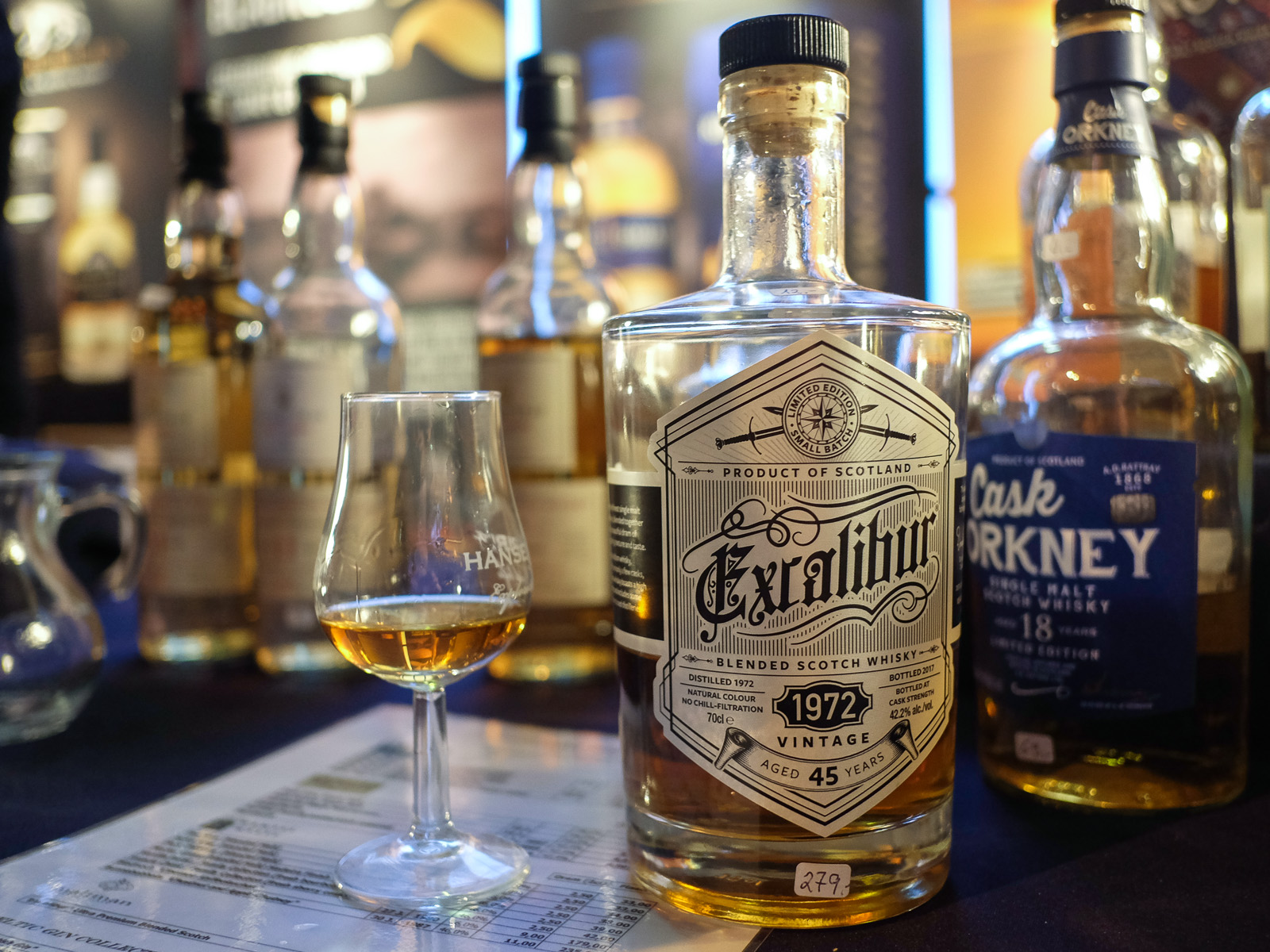 Betont trockener Whisky mit enormer intensiver Länge.
Laphroaig Select, Islay Single Malt Scotch Whisky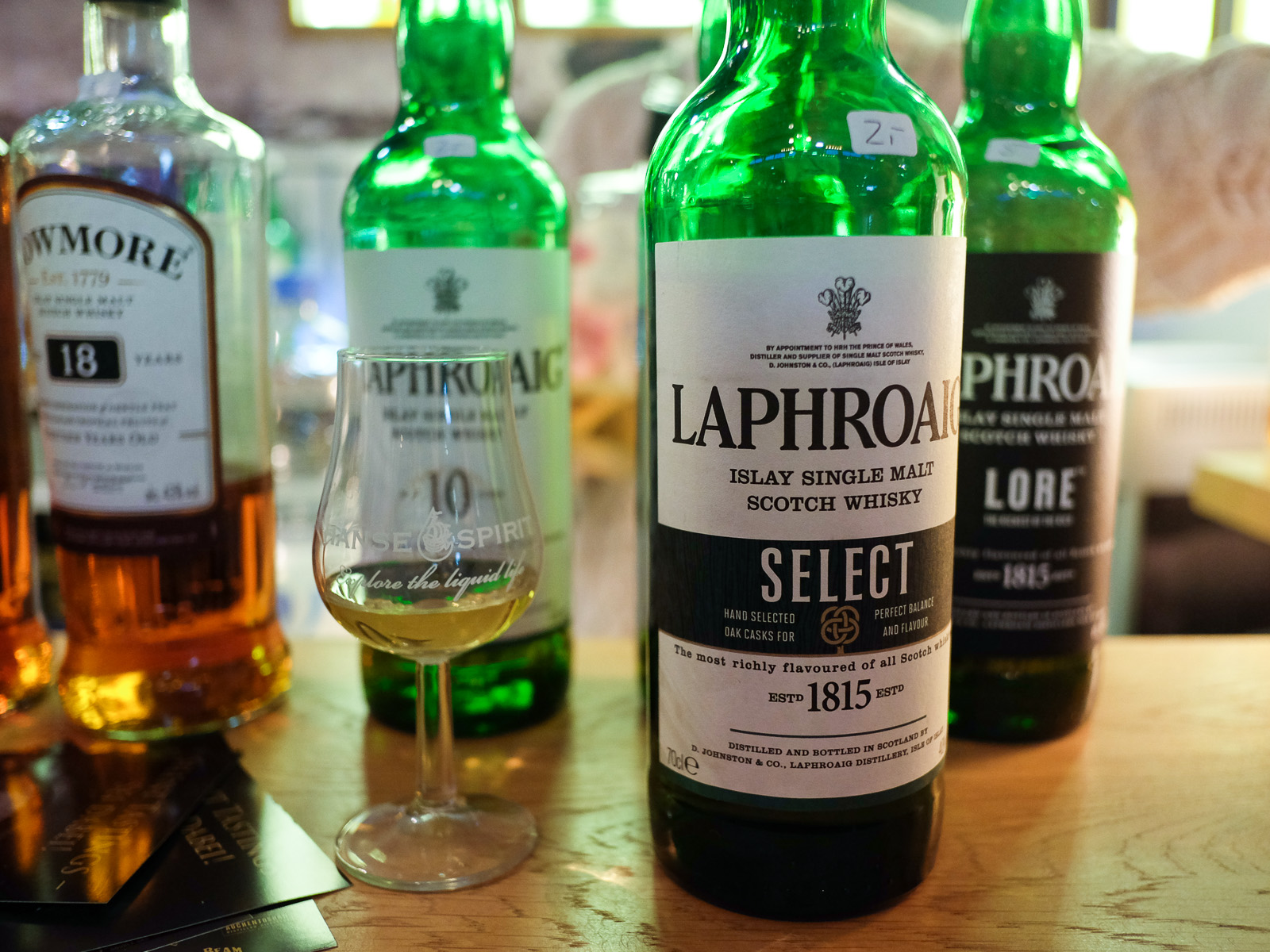 Süßlich rauchiger Whisky.
Laphroaig 30 Jahre, Islay Single Malt Scotch Whisky
It took maturing this exquisite single malt twice in ex-Bourbon barrels to give it such profound character. This rare liquid features notes of toasted almond, sage and a subtle touch of the peat smoke that is the trademark of Laphroaig. (Zitat Laphroaig).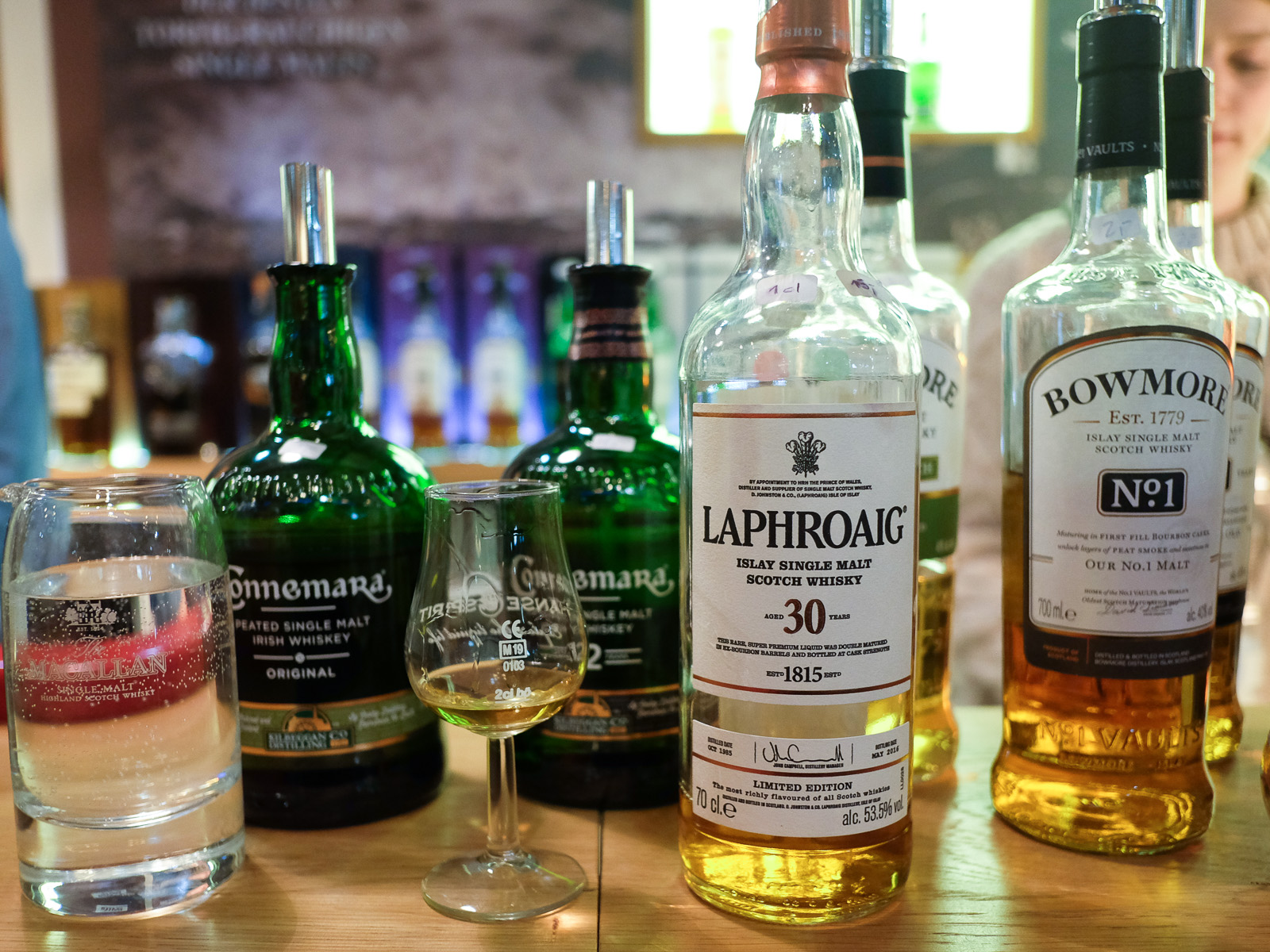 Macallan No. 6, Speyside Single Malt Scotch Whisky
No. 6 brings together the art of whisky making with Lalique exquisite craftsmanship to create a stunning whisky encased in the finest crystal decanter. This rich, complex single malt takes its unique natural colour and character from first fill sherry seasoned oak casks from Spain, handcrafted by the master craftsmen of Jerez de la Frontera, the home of sherry. The casks are taken from a single cooperage in order to ensure the infinite quality and character at the heart of this rich single malt. The cooperage exclusively creates Spanish oak casks which, once seasoned with sherry, create the unique flavour of this exquisite whisky. Rich in spice and dried fruit with a layer of heady orange groves, this is an enticing, dark, whisky that delivers classic Macallan character. (Zitat Macallan)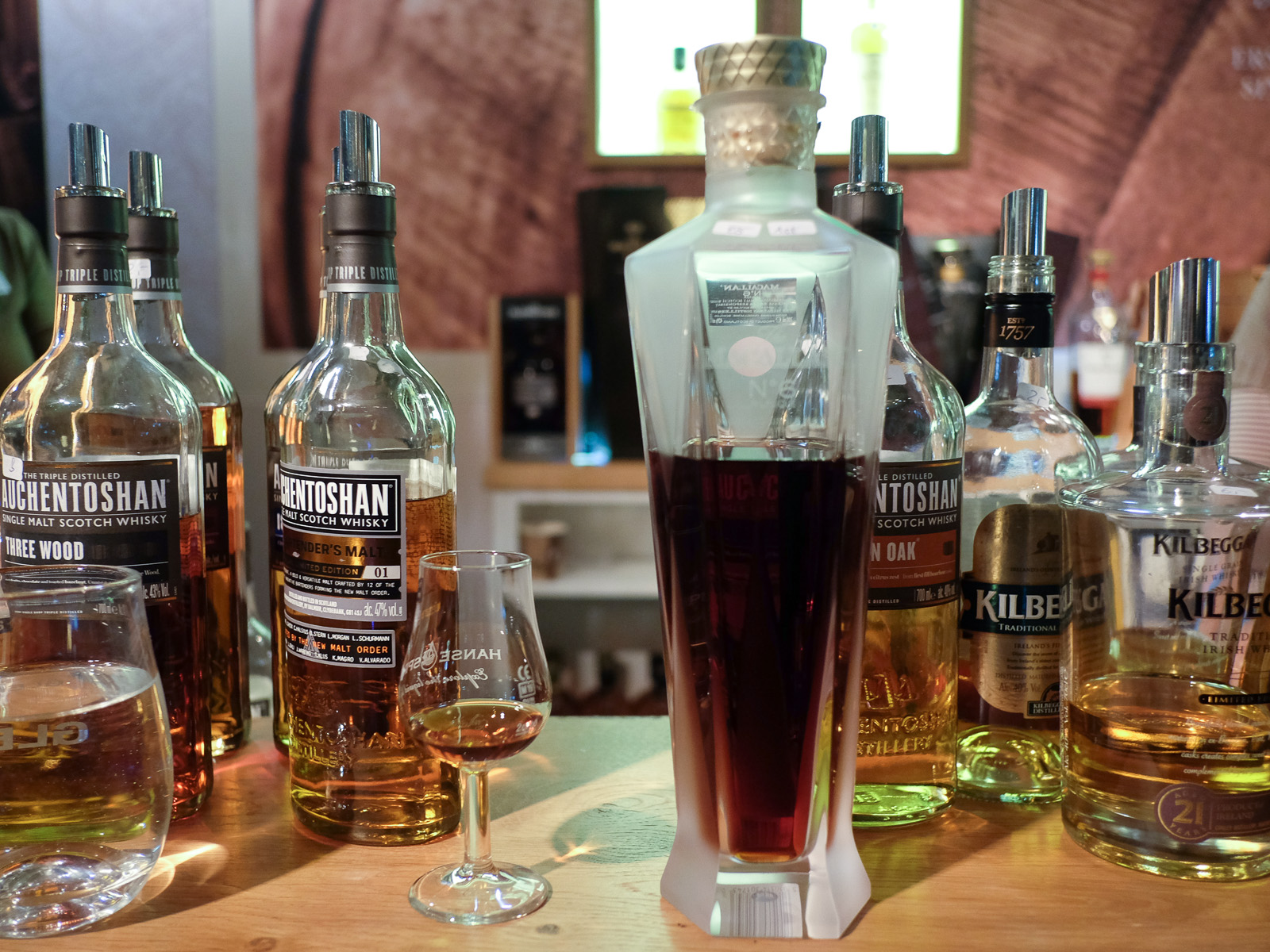 Ein Whisky mit unglaublich komplexer Nase.
Highland Park 40 Jahre, Orkney Single Malt Scotch Whisky
First released in April 2008, HIGHLAND PARK 40 YEAR OLD is batched in very small quantities with only 10 casks selected for each bottling – it's the culmination of years of whisky-making knowledge and experience.
Described in Whisky Magazine as "an incredibly well drinking Highland Park… sharing some of the 18 Year Old's refinement but taking it into a different league". Our 40 YEAR OLD is both highly complex and beautifully balanced, a rich and luxurious single malt at once deep, aromatic and smoky, yet singing with the sweetest notes of soft toffee, dark chocolate and fragrant orange zest. (Zitat Highland Park Whisky)
Ein voller komplexer Whisky.
Glenglassaugh 1986 29 Jahre, Speyside Single Malt Scotch Whisky
Aroma: Floral aromas reminiscent of a summer meadow mingle with musky vanilla and mango notes. A crisp lemon and lime edge develops. Taste: Initially peppery followed by creamy lemon tart flavours. Cantaloupe, mango, and toasted oak develop and lead to a delicate hint of fresh tea leaves. Aroma with Water: Hints of honeycomb combined with boiled sweet and peach aromas are complemented by a touch of fresh lime. Taste with Water: Sweet with apricot jam, chocolate, and lime flavour are complemented by small bursts of chilli on the tongue. A subtle tobacco note develops on the finish. Body: Medium. Finish: Medium; drying with lingering fresh citrus notes. (Zitat Gordon & MacPhail)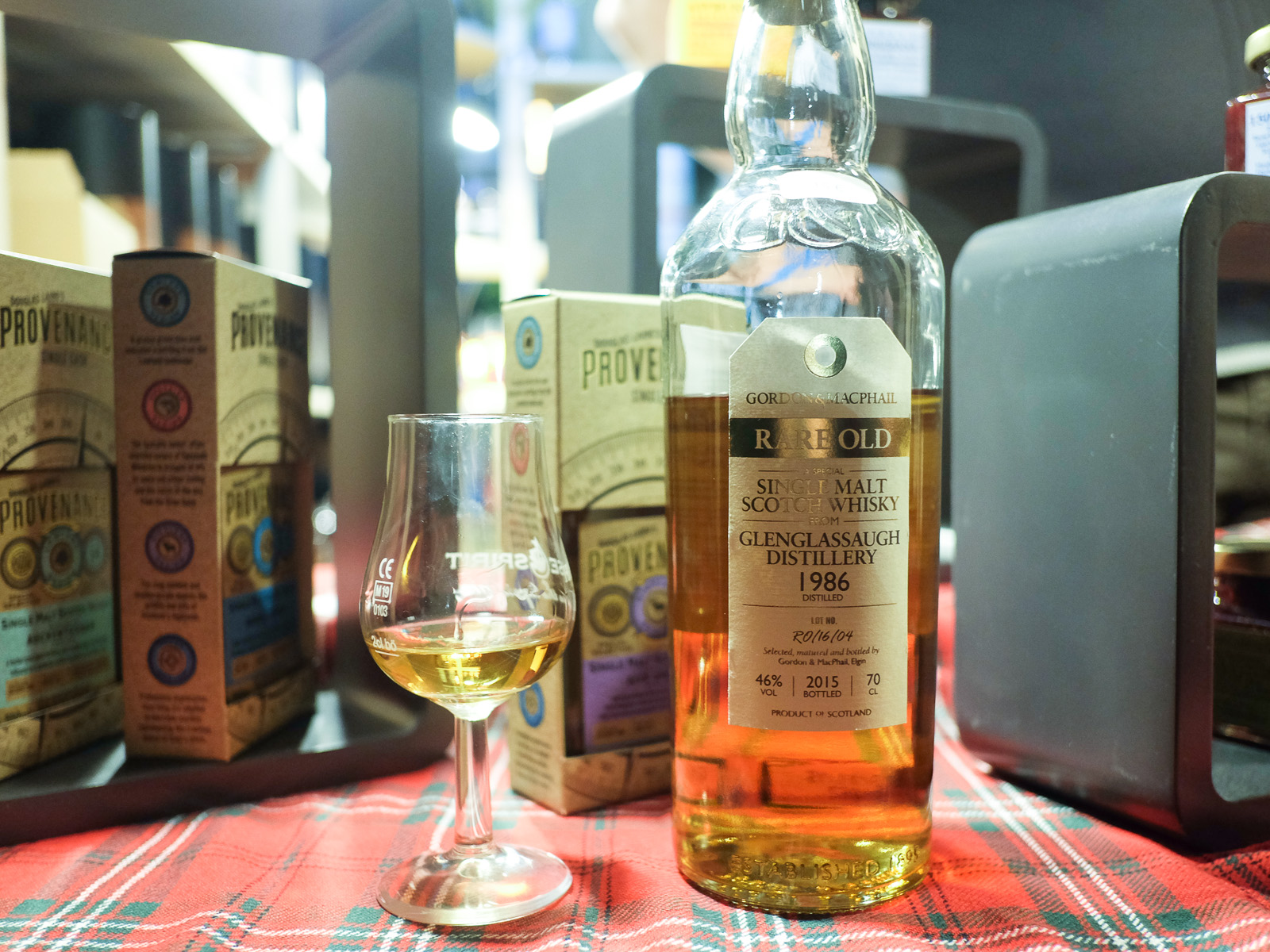 Coleburn 1981 34 Jahre, Speyside Single Malt Scotch Whisky
Aroma: Subtle Sherry aromas lead to plum, red apple, and custard notes. A fresh lime undertone develops. Taste: Peppery but creamy with lemon, grapefruit, and hints of cocoa powder. Charred oak flavours combine with a hint of liquorice. Aroma with Water: Sweet vanilla, candied fruits, and pear aromas are complemented by hints of cocoa. Taste with Water: Creamy and sweet with apple, summer berries, and grapefruit. An undertone of oak combines with a toasted hazelnut edge. Body: Medium. Finish: Long and mouth watering with a lingering trace of smoke. (Zitat Gordon & MacPhail)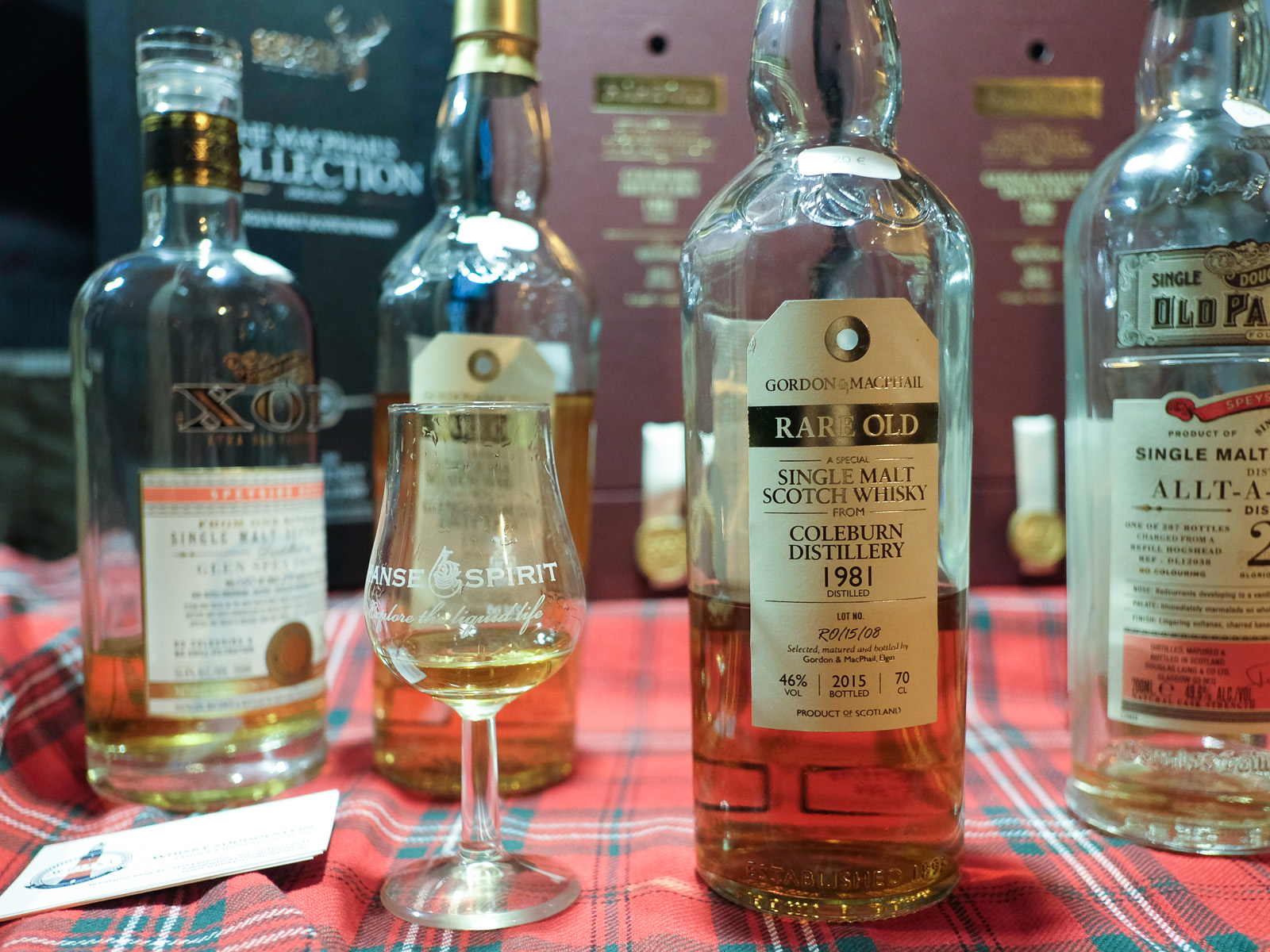 ---